Ranting Roseanne: Barr flips out, claims 'Two and a Half Men' writers stole her joke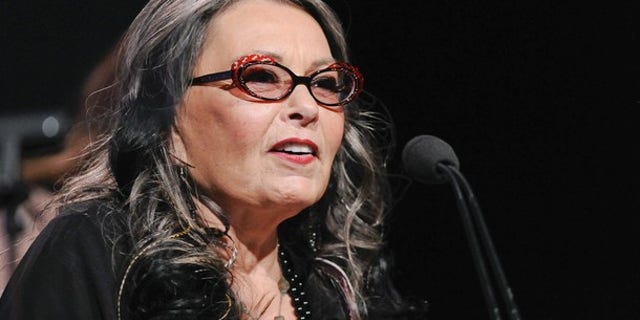 The "Two and a Half Men" writers' room needs to start using more original material, according to Roseanne Barr.
In a Twitter rant over the weekend, Barr accused star Ashton Kutcher and creator Chuck Lorre (who was a supervising producer on "Roseanne" in the 1990s) of ripping off a joke from her stand-up routine. Later, she recanted her claim against Kutcher and Lorre, but maintained that someone on the writing staff stole her material.
Photos: The biggest celebrity feuds
"If I'm unable2 sue billionaire chuck lorre4 theft, then I will force myself 2 watch his shows-& steal his jokes 2-altho NOT many R FUNNY," Barr tweeted. "I can C chuck in the room: 'guys, let's b careful when lifting jokes frm comics-don't steal copyrighted HBO special jokes-b more discreet'."
The quip in question was featured in Thursday's episode of "Men," in which Kutcher's character remarks about being 91 years old, "I'd imagine that you're wet in the places you used to be dry, and dry in the places you used to be wet." Barr has been using a similar line for nearly 10 years when commenting on the effects of menopause.
"A--hole kuchner (sic) is stealing my 'wet where I'm supposed to be dry' joke @JohnnyAgent motherf---ing thief," Barr tweeted.
Later, Barr wrote: "I forgive Ashton and Chuck! It's prob one of their writer's fault!"
But she reiterated her original stance on Sunday, tweeting: "One thing chuck lorre will never do: apologize for lifting material from me or other comics or other tv shows."
Click here for more from TVGuide.com