'Property Brothers' deny 'Fixer Upper' feud: 'We're one big family'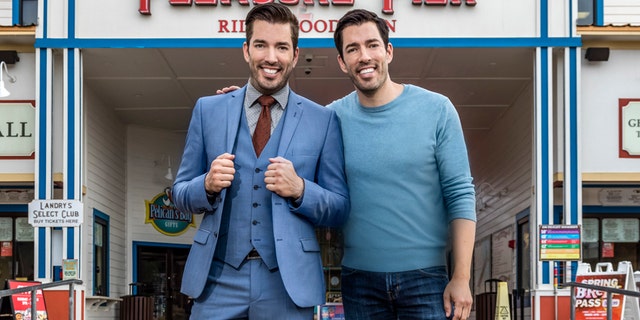 NEWYou can now listen to Fox News articles!
As Drew and Jonathan Scott geared up for the new season of their hit HGTV show "Brother vs. Brother," they enlisted the help of some old friends.
"We're one big family, which is why we love bringing [fellow HGTV personalities] in to judge us," Drew told Fox News of inviting HGTV talent to judge them on the show. "We legit let them judge us any way they want."
Which is why the brothers were as surprised as their fans when rumors began to swirl of a feud between them and Chip and Joanna Gaines of "Fixer Upper."
"We know a lot of the [HGTV] talent really well," Drew explained. "Our show starting airing in 2011 and over that time we've met [Chip and Joanna] once or twice. They were really nice."
He added their shows are very different than "Fixer Upper," leaving little room for a supposed feud.
"Chip and Joanna keep it to where they live in Waco and do their own thing, where Drew and I, we travel around," he explained.
The Scott brothers are not interested in competing with the Gaineses. The pair are too focused on competing against each other in the newest season of their show which is set in Galveston, Texas this year.
"When we compete it's not to knock each other down. We push each other to do better," Drew said. "We're not malicious, but we do prank each other and have fun."
His twin brother disagreed. "Drew takes pranking to a whole other level," Jonathan said recalling the time Drew put a live crocodile in the house in New Orleans he was renovating on a previous season of the show.
To keep things civil between the twins, they enlisted the help of their brother JD.
"JD plays the middle man, the referee," Jonathan said, "He's the perfect go-to. He knows how we'll react to things... we've got a great family dynamic and not taking ourselves too seriously."
The brothers also reflected on their success -- both on and off screen.
"Even as little kids, we had this feeling we could do something great," Drew shared. "But never in a million years did I ever think it would go to this world scale. We're in 150 countries."
Jonathan added that despite their success, they're still the same people they were before the television shows.
"When our friends, who have known us from the beginning, I love that they tell us nothing has changed, we just have a tighter schedule."
He concluded, "Nothing has changed we're all about family."
Watch "Brother vs. Brother" on HGTV Wednesday, May 31.