Prince William and pregnant Kate Middleton play ice hockey in Sweden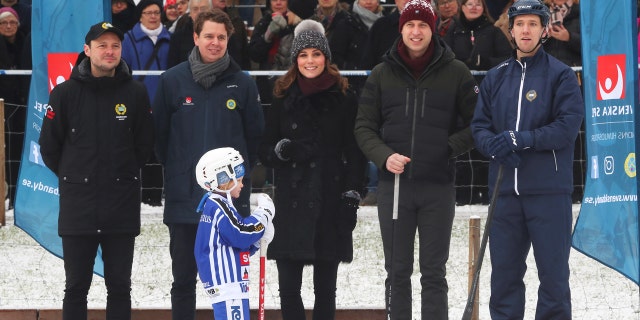 NEWYou can now listen to Fox News articles!
While Meghan Markle and Prince Harry enjoy their royal tour of England, Prince William and a pregnant Duchess of Cambridge got playful on the ice in Sweden.
On Tuesday, Prince William and Kate Middleton visited an outdoor ice-skating rink in the center of Stockholm during their four-day royal tour of Sweden.
When the couple arrived, they received the royal treatment from the Swedish locals. The parents of Prince George and Princess Charlotte were welcomed to the ice with a red carpet and were presented with their own custom bandy hockey jerseys – one of the country's most popular sports.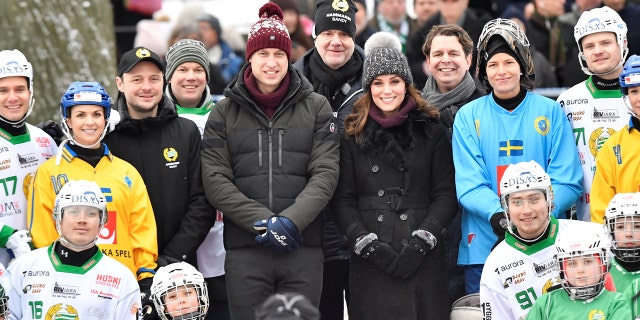 In an effort to learn more about bandy hockey, which is played with a small ball and not a traditional hockey puck, Prince William and Kate then took part in a casual game with other local bandy hockey players. And despite being in her third trimester, Middleton played hockey with ease, according to People.
William and Kate reportedly braved the chilly Stockholm temperatures by sipping hot chocolate with some of the local children. The couple, who are expecting their third child in April, left their own children at home for the tour of Sweden.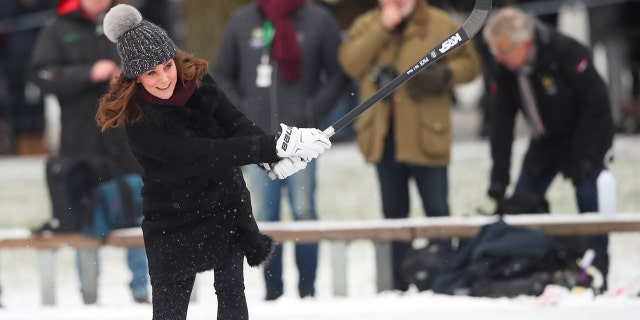 For their next Swedish event, the couple will attend a lunch at the Royal Palace of Stockholm hosted by King Carl KVI Gustaf and Queen Silvia. According to People, the British royals will also meet Crown Princess Victoria and her husband Prince Daniel who, like Prince William and Kate, have two young children, Princess Estelle and Prince Oscar, and are also in line for the throne.
In the evening, the Prince and the Duchess will attend a black-tie dinner at British ambassador's home where they will once again mingle with the Swedish royal family as well government officials and Swedish actors Stellan Skarsgard and Alicia Vikander.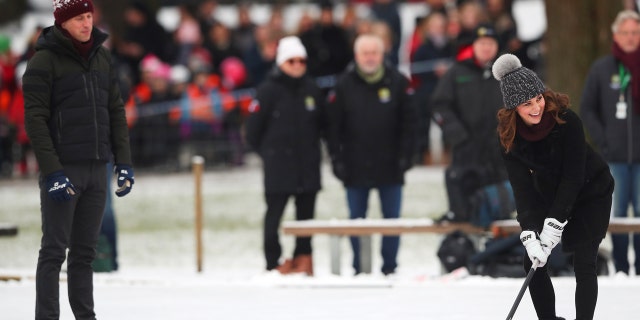 And while William and Kate woo Sweden, Prince Harry and Meghan Markle will attend their first black-tie gala together back in London.
On Jan. 19, Kensington Palace announced the news that Harry and his fiancée will attend the annual Endeavour Fund Awards which "celebrate[s] the achievements of wounded, injured and sick servicemen and women who have taken part in remarkable sporting and adventure challenges."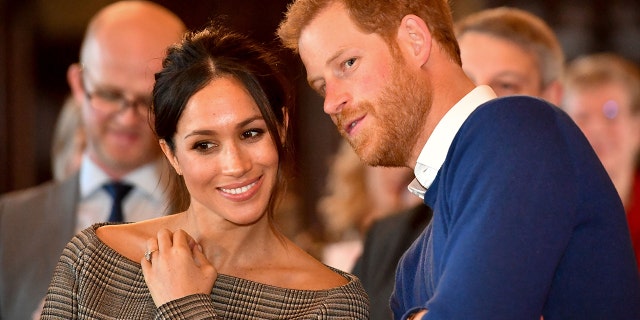 The Feb. 1 event will mark the couple' fourth public outing together since announcing their engagement back in November. So far, the couple have visited Nottingham, Brixton and Cardiff in the neighboring country of Wales together.
The Endeavour Fund was created by The Duke and Duchess of Cambridge and Prince Harry in 2012. The royal family's "passion for supporting the recovery of wounded, injured and sick Servicemen and women" led to the organization's founding.
The annual Endeavour Fund event will take place at Goldsmiths' Hall in London.