Prince Harry makes first public appearance since nude picture scandal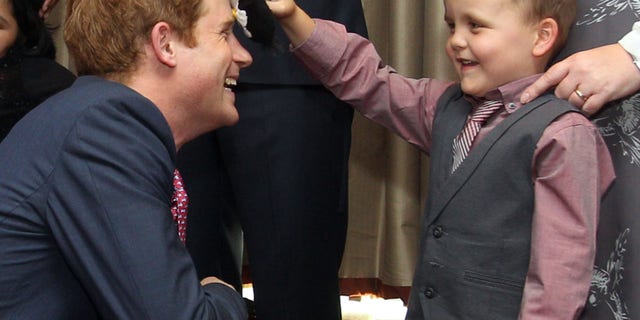 LONDON – Prince Harry has made his first public appearance since nude photos of him made international headlines.
A fully clothed Harry attended an awards ceremony Monday for the charity WellChild to celebrate the lives of seriously ill children and the doctors who care for them.
The prince, dressed in a smart gray suit, made no reference to the publication of the pictures, which captured him frolicking in the nude with an unidentified woman after what was alleged to have been a game of strip billiards in his Las Vegas hotel room.
The third in line to Britain's throne appeared relaxed as he gave a speech and chatted with the children at the ceremony, held at a London hotel.
Earlier Monday, a six-year-old boy who was due to be presented with an award by Harry had told ITV News that he would tell the prince: "I'm glad you've got your clothes on."
But the boy, who has acute leukemia, did not end up making the cheeky comment when he met the prince.
Harry himself inadvertently drew some laughs from the audience when he said that he was "not shy."
"All of you -- children, families, nurses, doctors, carers, volunteers -- are, quite frankly, too remarkable for me adequately to describe with mere words," he said. "But never one to be shy in coming forward, I'll give it a go."
The prince's nude photos went viral on the Internet, but most newspapers in Britain refrained from publishing them. Royal officials have said the photos were a breach of the prince's privacy.