Porn stars warn celebs with sex tapes: Get out of adult industry while you still can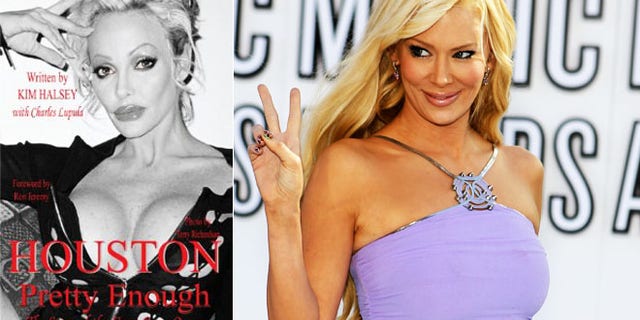 NEWYou can now listen to Fox News articles!
Former MTV star Farrah Abraham, Anthony Weiner sext partner Sydney Leathers, and now Tami Erin, AKA Pippi Longstocking, have followed Kim Kardashian's footsteps by releasing their own sex tapes. But unlike Kardashian, who parlayed her XXX past into a hit reality series and multimillion dollar endorsement deals, the new class of celebrity sex tape stars are instead making their way into the adult entertainment industry with appearances at strip clubs, topless dancing, and, in Farrah Abraham's case, even having her private parts used as molds for sex toys.
What these porn novices may not realize is once you are in the industry, it's extremely hard to get out. A source tells FOX411 that even the highest grossing porn star of all-time, Jenna Jameson, having gotten free and clear of the industry for several years, has recently gone back to the seedy, drug- and STD-laden business.
Five years ago, Jameson said she would "never ever ever spread my legs again in this industry," but celebrity sex tape broker Kevin Blatt told FOX411 "she is doing webcams now."
Webcamming is where a woman works from her home or bedroom through a website that typically charges a per-minute rate. On average, Blatt says women make 35 percent of the gross revenue from the site that hosts the stream. Jameson confirmed she was performing on webcams to a TMZ videographer, saying she was doing it for her family (she has twins with ex husband Tito Ortiz) and to meet her fans.
"It was shocking to all of the girls in the business because Jenna supposedly made $30 or 40 million dollars, and she should have not had to work another day in her life," Blatt said.
One of Jameson's contemporaries, the porn star Houston, real name Kimberly Halsey, is also now a webcam performer. She says dancing at strip clubs – as many of the new celeb sex tape stars are doing – is no longer a way to make ends meet. "I used to make up to $7,000 a show. I was flying home with loads of cash," she said. "But now you can pick up a camera and see the girl live on the net. The Internet killed everything, even the dance circuit. The reason why the newbies do the dance circuit now is anything is better than nothing. Everybody's got bills."
Halsey recently penned a tell-all memoir, "Houston: Pretty Enough: The Story of the Gang Bang Queen," about the struggles she faced trying to transition into mainstream life.
"My porn-ness ruined my life at times. It's been tough. It continues to be tough. I deal with Houston all of the time," she said. "I've done everything I can to get out. I've got my real estate license and I'm a good hire, but will I even get hired because of who I am?"
Halsey said she was able to transition into mainstream life for three years as a real estate broker, but her past eventually caught up with her.
"I had gained 40 pounds and dyed my hair brown and was in hiding pretty much. I was hiding my (porn) identity. I started dieting and dyed my hair back to blonde and I started looking like (Houston) again," she said. "Sure enough my broker, sales manager, president of my company, shows up at my site, and someone in the office, in corporate, they said, 'We understand you used to go under the alias Houston and were a celebrity in the porn industry.' They said you can't be on the front lines. Here's your final paycheck and they let me go."
Shelley Lubben, founder of the anti-porn organization Pink Cross Foundation recalled her horrific experiences as an adult entertainer.
"I was told it was easy and I would become famous. I did 30 movies in a year and a half during the years of 1992-1994. I contracted two STDs: Herpes and HPV. The HPV led me to having cervical cancer and I had to half of my cervix removed. When I got herpes it was all over my mouth and my intimate parts. I was suicidal when I was diagnosed with herpes. I got out in 1994."
Now Lubben, a wife and mother, is on a mission to save other women from the porn industry through her faith-based foundation and claims to have helped over 30 women so far. She says money isn't the only reason some women return to sex work. "The only reason the girls go back to porn and they can't deal with normal life," she said. "Recovery is hard especially with addiction with drug and alcohol."
However she maintains hope for the women who want to escape the business.
"Porn does not define them; it's who they are and what they do now."
Neesa, a former hardcore XXX actress, shared her story on Lubben's website. After ten years in the business, Nessa contracted multiple STDs and was raped on set. In 2006, she found out about The Pink Cross Foundation at a booth at AVN (Adult Video News convention). With the support of Shelley's organization, Neesa has left the industry permanently. She recently finished school and hopes to get a job as a dental assistant.
"It's not easy right now because I know I have some health issues to deal with because of everything I've done," she wrote. "But I feel God really working in my life so I'm not going to give up."
Halsey, however, is continually lured back to porn by the money.
"I wanted out of porn. I still want out of porn. I can't get out of porn because I can't make the kind of money I can in the adult industry," she said. "I hate it. I freaking hate it."