Playboy model Dani Mathers on body shaming scandal: 'I am not sorry about what happened to me'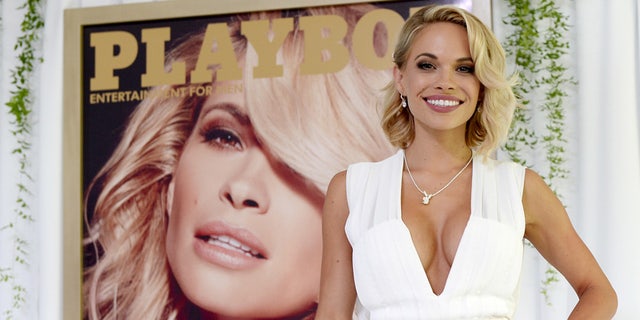 NEWYou can now listen to Fox News articles!
Playboy model Dani Mathers learned to embrace the backlash she faced for secretly snapping a photo of a 71-year-old naked woman in a gym locker room and posted it on social media.
She pleaded no contest to misdemeanor invasion of privacy in Los Angeles County Superior Court and was ordered to clean up graffiti on May 25.
"There is no doubt I regret that stupid choice," the 30-year-old told Us Weekly. "I am sorry that it happened to this woman. But I am not sorry about what happened to me. I would not have this push to create positivity and try to change people's minds about how they act without thinking. My life flipped upside down. But it's a blessing in disguise."
The controversy first occurred when the former Playmate photographed the woman without her consent in an LA Fitness locker room in July 2016 and posted it on Snapchat with the mocking comment, "If I can't unsee this than you can't either."
PLAYBOY MODEL DANI MATHERS: 'I JUST WASN'T THINKING'
The posting was accompanied by a selfie of Mathers in a tank top with her hand over her mouth as if she's gasping in horror. She was immediately slammed on social media for body shaming the stranger and was consequently banned from all LA Fitness locations.
"Body shaming can devastate its subjects," said Los Angeles City Attorney Mike Feuer at the time. "People are mocked, they're humiliated and in ways they can never fully get back."
Under terms of the plea, Mathers will be on probation for three years and must not take photos of people or post them online without their permission. While Mathers was ordered to either serve 45 days in jail or 30 days of graffiti removal, she chose the latter.
The 2015 Playmate of the Year apologized for the incident.
PLAYBOY MODEL DANI MATHERS ORDERED TO CLEAN UP STREETS
"I'm still learning how big of a deal this is," she admitted. "More than anything, I hurt somebody I don't know. It's a terrible feeling to know that's something I was capable of. But I do think that it taught me a lot."
Mathers revealed she received death threats since the image went viral in July 2016.
"I took a break for almost a year," she said. "I feared anything positive I put out would be seen as disingenuous. I hope my situation shows there is a responsibility when on social media. People have been relentless. That's a lot of why I had to step away. All I want to do is defend myself. But if I spend every moment defending myself, I wouldn't be getting anything positive done. I have to block it out. I can't feed my mind and my heart with negativity."
Mathers insisted she's now involved with charity to spread awareness on anti-bullying.
"I work closely with Coupla Guys and Gals Give Back," she explained. "I'm heading their anti-bullying department. I'll be speaking at schools about the responsibility that comes with social media and telling kids about the pain we can cause if we don't think before we speak, before we post."