Photos surface of naked Prince Harry partying with equally naked woman in Las Vegas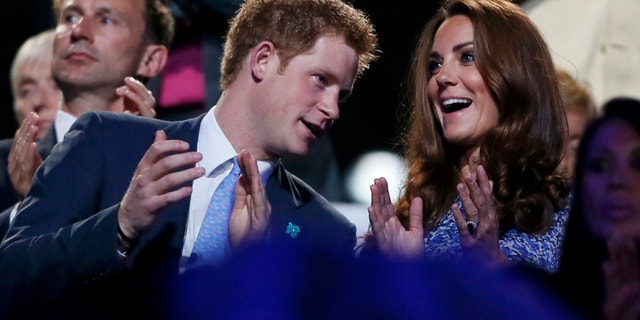 What happens in Vegas no longer stays in Vegas.
Prince Harry put the crown jewels on display in Vegas this weekend getting naked during a game of strip billiards with a room full of friends in his VIP suite, TMZ reports.
It all went down Friday night during a raging party in a high rollers hotel suite.
PHOTOS: Click for the NSFW pics.
Harry, 27, along with a large entourage, went down to the hotel bar and met a bunch of young women and invited them up to his VIP suite.
Once in the room, things got wild, with the group playing a game of strip pool that quickly escalated into full-on royal nudity.
Some of the partiers snapped photos of the madness. In one photo, a fully nude Harry cups his genitals while a seemingly topless woman stands behind him.
In another photo, a naked Harry is bear-hugging a woman who appears to be completely naked as well.
No word on who the women are, or if they got Harry's phone number.
A rep for the Royal Family tells TMZ: "We have no comment to make on the photos at this time."
It's hardly the first time the prince has been filmed misbehaving. The third-in-line to the throne was famously photographed wearing a Nazi uniform for a costume party, and in another photo-gaffe he was seen cupping the breast of a female TV presenter. Some would argue footage in which he was heard to utter a racial slur while teasing a fellow army cadet from Pakistan was more serious.
If the reaction of Britons to Harry's Las Vegas adventure was anything to go by, the nude photos will do little to tarnish his generally positive, party-prince image. The Associated Press asked an assortment of royal watchers and British subjects about what they thought about the prince's naked romp.
Jim Conlon, a 60-year-old construction worker: "The answer to that is categorically NO." Conlon, who was unloading bags of material from a car, seemed genuinely offended by the very question. "I'd be proud of him if he were my son," he said.
Conlon's opinion was typical of a country where thousands of streets and pubs are named for the royal family. Polls published earlier this year showed support for the monarchy at an all-time high, perhaps buoyed by the celebrations surrounding Queen Elizabeth II's Diamond Jubilee celebrations marking her 60 years on the throne.
Interviews with Londoners up and down the capital's Prince of Wales Road yielded few critics of Harry's antics.
Craig Martin, 38, another construction worker: "He's the prince. He can have any bird he wants!"
Down the road, caregiver Shirley Ashard laughed at the news of Harry's naked adventure, dismissing questions about the propriety of running around a plush hotel room in the buff with a boys-will-be-boys shrug.
"I've got kids. They do things like that," the 59-year-old said. "He's a lad, for God's sake."
Ingrid Seward, editor-in-chief of Majesty magazine: Not likely. Seward said Harry's party-boy image was part of his approachable, normal persona.
"Of course it's stupid, but it doesn't make people dislike him -- quite the opposite," she said. "It shows that he is a guy who gets into trouble and he's the one people love to love. It could only happen to Harry -- but we love him for it."
She did think, though, that Harry might get a talking-to from Prince Charles. "I would think his father would speak to him," she said.
The Associated Press contributed to this report.