Peter Fonda tweets he wants to 'rip Barron Trump from his mother' and put him in a 'cage with pedophiles'
Actor Peter Fonda has a social media army and the Secret Service on his back after a twisted Twitter call to "rip Barron Trump from his mother's arms and put him in a cage with pedophiles."
The brother of Jane Fonda also called for violence against Secretary of Homeland Security Kirstjen Nielsen and called White House Press Secretary Sarah Sanders a "c---."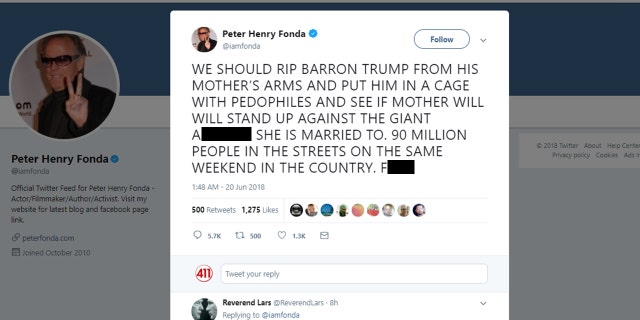 A rep for Fonda told Fox News the actor "wanted to make sure that Melania and Ivanka communicate with the president the dire circumstances of separating mothers and young children." The rep added on behalf of Fonda, "My response is the move was evil — same as the Pope."
Hours later, Fonda released a statement to Fox News apologizing for his comments.
"I tweeted something highly inappropriate and vulgar about the president and his family in response to the devastating images I was seeing on television. Like many Americans, I am very impassioned and distraught over the situation with children separated from their families at the border, but I went way too far," he wrote. "It was wrong and I should not have done it. I immediately regretted it and sincerely apologize to the family for what I said and any hurt my words have caused."
Donald Trump Jr. stood up for his younger brother, who is 12, calling Fonda's since-deleted tweet "sick" and asking for Sony Pictures to drop the actor from "Boundaries," which is due out on Friday. Trump Jr. also called on his followers to go after Fonda on Twitter.
"As an FYI @SonyPictures has a movie with him dropping in a few days. I wonder if they will apply the same rules to @iamfonda that they did to @therealroseanne. I have a strange suspicion that they wont do anything. Please RT, we deserve an answer!," Trump Jr. tweeted on Wednesday.
Sony Pictures did not immediately return Fox News' request for comment.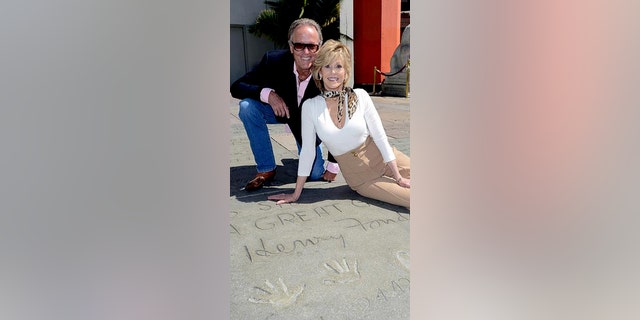 Stephanie Grisham, the first lady's spokesperson, called the tweet "sick and irresponsible" in a statement to Fox News and said the United States Secret Service has been notified of Fonda's threats.
The Oscar-nominated actor didn't stop with his tweet about President Trump's young son.
"See if mother [Melania Trump] will will [sic] stand up against the giant a--hole she is married to," Fonda tweeted. "90 million people in the streets on the same weekend in the country. F---."
His tweets were in response to a Trump administration's policy which has reportedly separated nearly 2,000 immigrant children from their parents at the U.S.-Mexico border.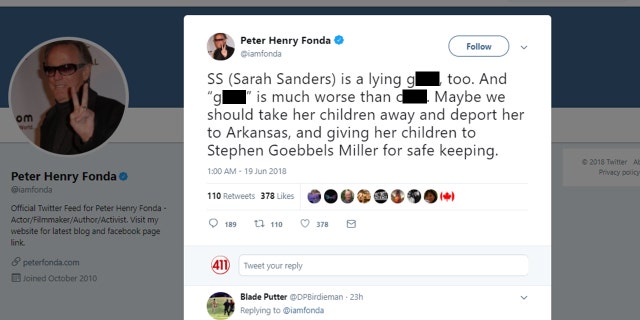 The 78-year-old actor also went on a tirade against Sanders and Nielsen calling them "g--h," saying the vulgar slang term is "much worse than c---."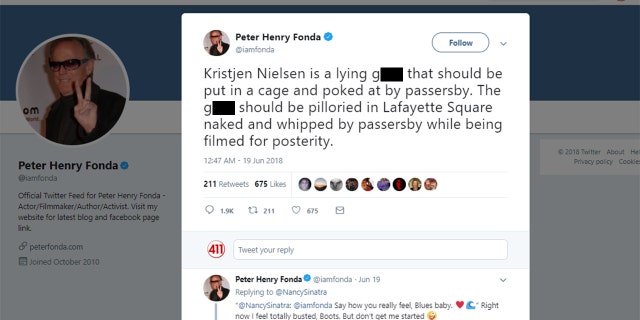 Fonda called for violence against both of the women saying Sanders is a "lying g---" and that her children should be taken away and given to Trump adviser Stephen Miller "for safe keeping." He also compared Miller to Nazi propaganda minister, Joseph Goebbels.

Fonda's tweet where he called for Nielsen to be stripped naked and publicly whipped was applauded by Nancy Sinatra.
Sinatra tweeted at Fonda, "Say how you really feel, Blues baby" followed by a heart emoji. The tweet apparently was deleted later. A rep for Sinatra did not immediately return Fox News' request for comment.
Fonda's older sister, Jane, 80, is no fan of the Trump administration herself. At the 2017 Emmy Awards, Fonda made headlines for her comments about the president.
"In [the film '9 to 5'], we refused to be controlled by a sexist, egotistical, lying, hypocritical bigot. And in 2017, we still refuse to be controlled by a sexist, egotistical, lying, hypocritical bigot," Fonda and actress Lily Tomlin declared.
Peter Fonda joins a group of celebrities ‒ including Reese Witherspoon, Oprah Winfrey, Kevin Costner and Willie Nelson ‒ in publicly denouncing Trump's border policy.