Outrage after NBC's 'Will & Grace' jokes John McCain, Lindsey Graham have 'sexual tension'
Conservatives are outraged after NBC's "Will & Grace" made a tasteless jokes about Senators John McCain and Lindsey Graham having "sexual tension" on Thursday night.
Eric McCormack's character, Will, and Megan Mullaly's Karen were looking at a computer screen to spy on Karen's household staff when Will noticed a "smoldering look" between two male employees.
"I think they're in love. That's sexual tension. It's the same look Lindsey Graham gives John McCain," Will said.
"It's quite remarkable that Hollywood lectures the rest of the country to be more tolerant, yet they continue to make bigoted jokes at the expense of conservatives," Mediaite columnist Joseph Wulfsohn told Fox News, adding "a shame" that NBC allowed a "once-great sitcom" to become an "unfunny, overly-political parody of itself."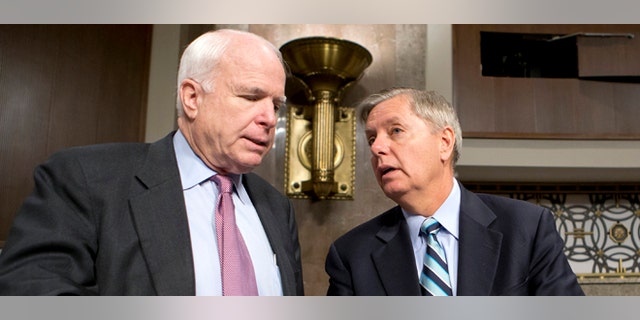 Media Research Center contributing writer Amelia Hamilton wrote, "'Will & Grace' is kind of obsessed with saying that Republicans are secretly gay."
Hamilton called the joke "boring," noting that "McCain and Graham are old friends," pointing to a 2013 comment by Bill Maher that also implied the Republican Senators were more than friends.
"'Will & Grace' is a reboot of the original show and maybe all they've got is reboots of old jokes," Hamilton wrote. "This show is so embarrassing to watch."
The attempt at humor comes only a few weeks after Graham visited McCain in Arizona to check on his friend who is currently battling a deadly form of brain cancer. "He's making progress. We laughed a little bit. We cried a little bit. I admire him greatly and I'm hoping he can come back and be with us," Graham said after the visit.
Conservative commentator Britt McHenry told Fox News the joke is "in incredibly bad taste" because NBC should leave McCain alone and "find better material" instead of picking on someone who spent his entire life serving this country.
"It's one thing to make a joke about a 'bromance,' but to go this far, in my opinion, crosses a line of decency."
"It's one thing to make a joke about a 'bromance,' but to go this far, in my opinion, crosses a line of decency," McHenry said. "McCain spent a lifetime serving this country—quite literally almost giving up his life to serve. Now, as he fights brain cancer, the least we can do is show him some respect."
Last October, "Will & Grace" took another shot at conservatives, using exaggerated stereotypes to portray the right as homophobic with not-so-subtle jabs at Vice President Mike Pence.
Sean Hayes' character, Jack, explained to Will that he lost touch with his son because, "He moved to Texas, married someone super conservative, and he didn't even invite me to his wedding."
It eventually turned out that Jack did have something in common with his grandson after all, as he is suspected to be gay. He was sent to a mock gay conversion camp called "Straighten Arrow," where they planned to "pray away the gay," complete with a poster of Vice President Pence. This aired weeks after the premiere episode of NBC's reincarnated "Will & Grace" was essentially a 30-minute anti-Trump infomercial. People magazine even published a list of all the times the show ripped Trump.
Representatives for McCain and Graham did not immediately respond to requests for comment.