Oscar de la Renta's adopted son nearly snubbed in dad's $26 million will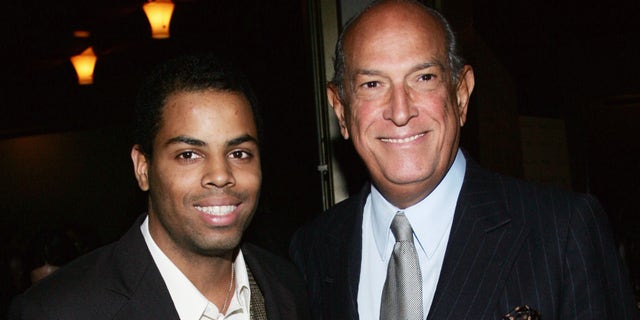 The adopted son of late fashion designer Oscar de la Renta could be feeling the pain of his falling-out with his father, who has reportedly left him with a very small fraction of his $26 million estate.
Moisés de la Renta, who was adopted by the famed designer from an orphanage in their native Dominican Republic, reportedly angered his dad by launching his own women's fashion line in 2005. It appears that Oscar de la Renta never forgave him and left him a relatively small portion of his estate.
According to the New York Post's Page Six, court documents show that 30-year-old Moisés was warned that if he contested the will at all, he would be cut off completely.
Oscar, who died in October at age 82, signed his will several weeks before his death, leaving the majority of the estate to his wife of 25 years, Annette.
Court documents, filed in Litchfield County Probate Court in Connecticut, show that his widow is set to inherit all of the designer's belongings as well as his real estate holdings, like a $13 million Park Avenue apartment, a $2.8 million Connecticut home and their estate in the Dominican Republic.
The rest of the funds were put in a trust that will be split between Annette, her three children and Moisés, who was de la Renta's only child.
Annette was put in control of the funds, and Oscar's stepdaughter Eliza Bolen was named as an alternate executor of the will, according to Page Six.
In 2005, the Post reported that Moisés was attempting to build a fashion empire that would "bring the de la Renta aura to a younger crowd."
The famed designer publicly lashed out at his son, whom he adopted when Moisés was 24 hours old after his first wife, Françoise, died of cancer.
"Moisés did a little line, five or six pieces. But that doesn't make him a designer," Oscar told New York magazine at the time.
He told the magazine that he told his son, "Moises, when I started the business, I became well known because I was making clothes that were bought by a store, and women went to that store and bought those clothes, and then people started to talk about me. Today, unfortunately, you have a lot of young kids who get a tremendous amount of press who haven't sold a single dress."
The younger de la Renta's fashion line, MDLR, never took off.
According to Page Six, lawyers for Annette declined to comment, while Moisés did not return messages.