One Direction sued by US band, as awe-struck fans faint during appearance Down Under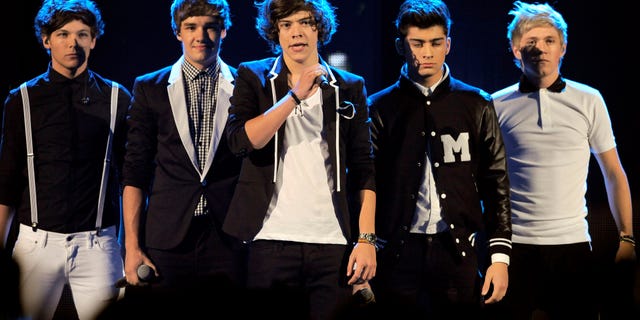 NEWYou can now listen to Fox News articles!
LOS ANGELES – This fight could be headed in One Direction -- to court.
A US band named One Direction filed a lawsuit Tuesday claiming the British superstar boy band stole their name, TMZ reported.
The American band said they formed in 2009 -- long before the Brits even knew each other. They also claim they beat the Brits in the race to the US Patent and Trademark Office, filing a trademark application for "One Direction" long before their UK counterparts.
The US band has asked for a court order that forces the Brits to change their name.
The British group signed to Simon Cowell's record label Syco Records after being formed and placing third in the seventh series of the UK version of "The X Factor."
The UK group, which is currently in Australia, has yet to respond to the lawsuit.
Meanwhile, almost a dozen One Direction fans required first aid after passing out in Sydney's central business district Wednesday morning local time.
The fans packed the street around the Channel Seven studios after staying up all night to see the boy band being interviewed.
But the shock of seeing the five members of the group live was too much for some, who fainted in the crowded street. First aid workers had to pull fans out of the rowdy crowd and over the security barrier to treat them.
The band's visit to the "Sunrise" studio caused complete chaos on the surrounding streets, with thousands of die-hard supporters chasing after the black vans carrying the group as they left the building and banging on the vehicles' windows when they stopped at a red light.
Police were forced to erect steel fencing to contain the crowds.
One girl said in the frenzy, "I'll do anything to see them, I'd even get Tasered for this. I don't care I just have to see them."
Most of the seething crowd held up signs to the boy band as they looked through the studio window in awe, while others wrote the name of their favorite member in black marker across their foreheads.
When the five boys arrived, girls began crying and hugging each other. Felicity Powell, 16, said, "I feel so sick. I was like a meter (yard) from them."
"I've been waiting for One Direction to come here for months," Grace Emmanuel, 15, added. "They are the most talented people on the planet."