Oliver Stone's Remarks on Jews in Hollywood Show He's Out of Touch, Execs Say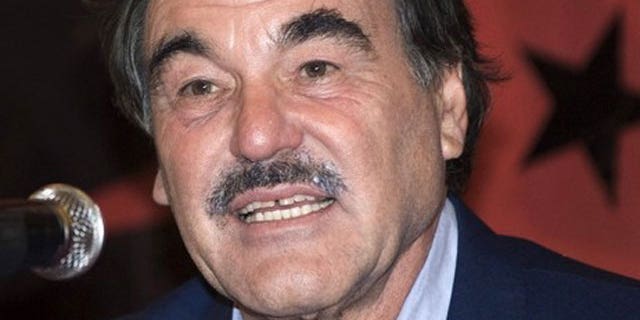 When Oliver Stone said over the weekend that Jews run Hollywood, his remarks were not only an anti-Semitic slur, but -- for a man who has been a leading film director for four decades -- also oddly out of touch with how Hollywood works in the 21st century, experts say.
"You toss up a dozen executives in this business and half of them will come down with various religions and so will the other half. If you look around and go media company after media company you'll see Episcopals, a Hasidic Jew or two, and Catholics all involved in doing this difficult work," Academy of Motion Picture Arts and Sciences president Sid Ganis told FOX411.com. "Oliver knows full well that you don't get a movie made because you're a Jew or not a Jew. Hollywood is controlled by the quest for profit from entertainment."
Stone was promoting his upcoming Showtime series, "Secret History of America," when he made his controversial remarks, for which he has since apologized. When asked why the Holocaust has been focused on so much in film, he said, "The Jewish domination of the media."
But in today's increasingly consolidated and corporate media landscape, Hollywood's major studios are all publicly owned corporations answering to shareholders.
"Hollywood today is as Wall Street as any other industry, and at the end of the day, at least last time I checked, they weren't all Jews," said Andrew Wallenstein, the Editor of Digital Media for The Hollywood Reporter. "The idea that there are a bunch of old Jews huddled in a corner with a stranglehold on their respective companies is something you would have to go back to the very, very earliest days of Hollywood to experience."
The major film studios, often referred to as The Big Six, command around 90 percent of the North American box office returns. These studios are 20th Century Fox, Warner Bros., Paramount, Columbia, Universal and Walt Disney Studios. 20th Century is owned by News Corporation, Warner Bros. by Time Warner, Paramount by Viacom, Columbia by Sony and Universal by General Electric.
Yet Jewish control of the media has become something of a trope for a certain set of Hollywood's old guard. When he was arrested in 2006, Mel Gibson went on a tirade to the arresting officer, saying that the Jews were responsible for all the wars in the world. In 1996 actor Marlon Brando told Larry King in an interview that the Jews run Hollywood and exploit minorities.
"These are old stereotypes that die hard. They're based on ignorance and repetition. And when it is repeated people begin to believe it," Abraham Foxman, the National Director for the Anti-Defamation League, told Fox 411. "It's a big lie. But if you repeat it often enough it takes on a sense of credibility."
Stone, whose father was Jewish and mother Catholic, made a contrite apology this week, releasing a statement that said: "In trying to make a broader historical point about the range of atrocities the Germans committed against many people, I made a clumsy association about the Holocaust, for which I am sorry and I regret. Jews obviously do not control media or any other industry."
On Wednesday the ADL and Foxman blasted Stone's apology, saying that it failed to repudiate all his conspiratorial anti-Semitic statements.
In response, Stone communicated directly with Foxman. "I do agree that it was wrong of me to say that Israel or the pro-Israel lobby is to blame for America's flawed foreign policy. Of course that's not true and I apologize that my inappropriately glib remark has played into that negative stereotype," he said, adding, "I want you to know that I am categorically opposed to anti-Semitism – and all other racist ideologies."
However, Jewish media mogul Haim Saban told The Wrap.com that he has contacted CBS chief Les Moonves (Showtime is a CBS property) and asked him not to air "A Secret History of America" on Showtime. Saban also told the website that super agent Ari Emanuel, brother of White House Chief of Staff Rahm Emanuel, had also called CBS, asking that the series be pulled.
Oliver Stone's rep did not reply to a request for comment.