Nicki Minaj panned for onstage exorcism at Grammys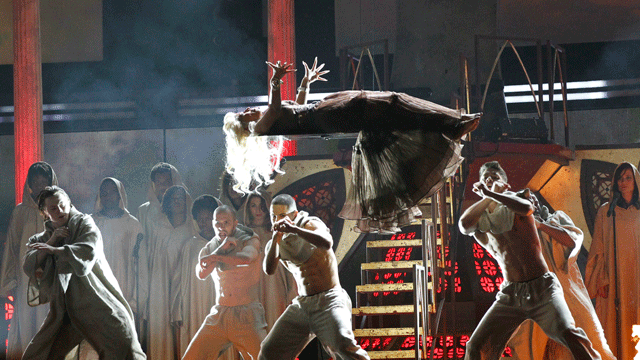 Miss Minaj, did someone not tell you Madonna did this mock-Catholic thing 20 years ago?
And that Gaga "resurrected" such an act two years ago?
While Nicki Minaj failed to win a Grammy for "Best New Artist" on Sunday night, the burgeoning rap star did succeed in being one of the most discussed singers following the telecast, but not for the most career-boosting of reasons.
Minaj sent the blogosphere into overdrive early in the evening when she arrived on the red carpet supposedly channeling her "Roman Zolanski" alter ego. That required a custom-made Atelier Versace outfit consisting of a blood-red, nun-inspired satin robe. Her "date" was an older man dressed to resemble the pope.
The rapper then debuted a new song from her forthcoming album "Roman Reloaded," taking religious symbolism to a whole new level of weirdness. Her "performance" consisted of an onstage exorcism, seemingly on herself, complete with levitations, fire, lighting and gibberish. As a white-hooded, goth-like church choir sang a chilling rendition of "Come All Ye Faithful," Minaj strapped herself to a leather table and was lifted into the air as flames burned beneath.
The mood backstage was a mixture of confusion, embarrassment and offense as the performance dragged on, going deeper and deeper in mocking Catholic faith. In a pre-taped skit which was broadcast before her live showdown, Minaj sang "I Feel Pretty," while putting on lipstick to set the stage for the insanity, and the same priest-figure was brought into her room to find out what was wrong with the "sick child."
Minaj drew Lady Gaga comparisons not only for the fact she was using an abundance of sacrilegious symbols, but also because she wore a long bleached blonde wig that resembled Gaga from afar.
"No Lady Gaga performance at the 2012 Grammys? Bummer. But wanna-be controversial rapper Nicki Minaj was happy to do her best Gaga imitation," wrote the Hollywood Reporter.
And although Minaj got tongues wagging with the controversial performance, and became an instant trending topic on Twitter, it still might have cost her at least a few fans as the web blew up with outrage and amusement.
"This nicki minaj performance makes me want to fill my ears with cement then super glue my eyelids together and punch myself in the face," tweeted one viewer, while another said "religion shouldn't be disrespected like that."
Several others expressed disgust that her performance went down during Black History Month, while others simply tweeted that "she SUCKED."
In fact, there was barely a positive tweet out there following Minaj's moment in the spotlight. The critics weren't buying into it either.
"All of Minaj's sacrilegious button-pushing is bound to annoy the Christian Right, the moral majority and make a few fleeting headlines," THR added, while E! online referred to her as the "Worst Spectacle" with a "kinda silly" and "way too long" performance. Entertainment Weekly called it "a mess featuring a whole lot of religious imagery, a smattering pyro and no real messages to be found."