New York Times stands by new tech writer Sarah Jeong after racist tweets surface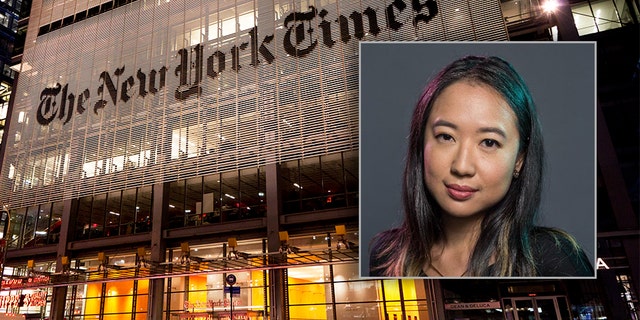 The New York Times is standing by its hiring of tech writer Sarah Jeong despite several derogatory tweets of hers aimed at white people, which were recently unearthed on her Twitter account.
"Oh man it's kind of sick how much joy I get out of being cruel to old white men," Jeong wrote in July 2014 in one of several old messages that have gone viral.
Social media reactions first flared on Wednesday with images of incendiary tweets from an unverified Twitter account that looked to belong to Jeong. They surfaced shortly after The Times announced she was joining the paper. The Times issued a statement on Thursday declaring that it had reviewed her social media history during the hiring process and was standing by the decision to bring her aboard.
"We hired Sarah Jeong because of the exceptional work she has done … her journalism and the fact that she is a young Asian woman have made her a subject of frequent online harassment. For a period of time she responded to that harassment by imitating the rhetoric of her harassers," The Times said in a statement. "She regrets it, and The Times does not condone it."
The paper said it had "candid conversations" with Jeong during the interview process that included a "thorough vetting" and review of her social media history. The Times said it is "confident that she will be an important voice for the editorial board moving forward."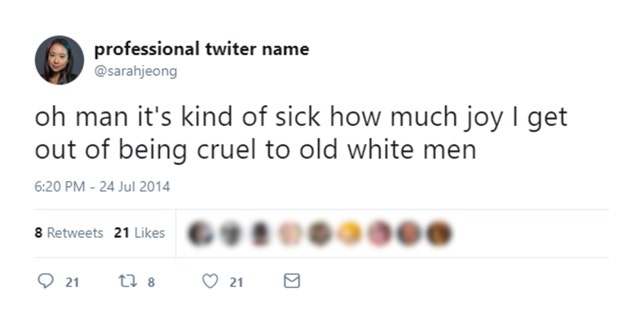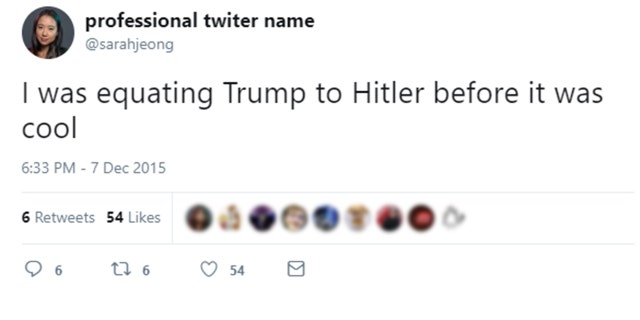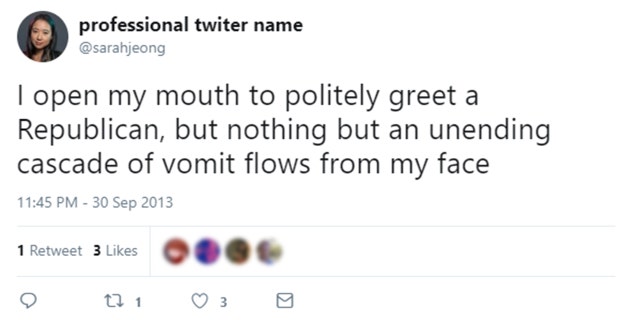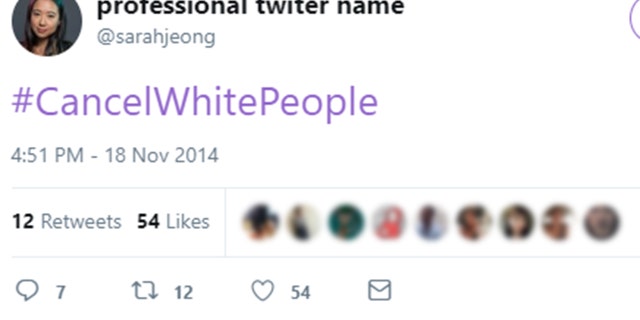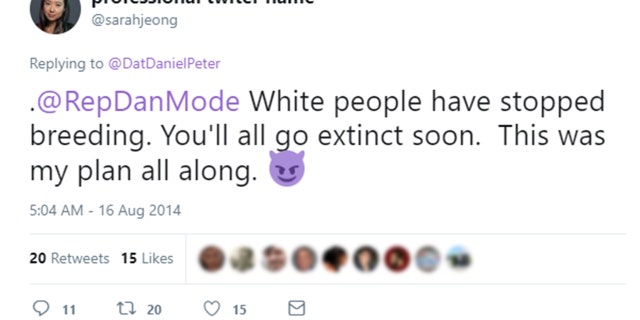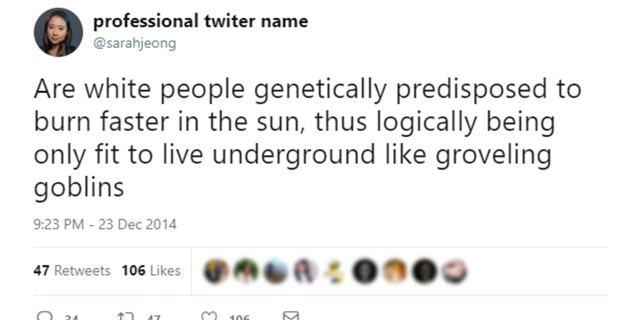 Jeong's Twitter feed is filled with a host of messages that could be construed as racist and offensive. Jeong compared "dumbass f-----g white people" to dogs, said that "old white men" were "lemmings," opined that white people would "go extinct soon," and used the hashtag #CancelWhitePeople.
"Are white people genetically predisposed to burn faster in the sun, thus logically being only fit to live underground like groveling goblins," she wrote in 2014 before adding a graph claiming that "whiteness" resulted in being "awful."
Jeong issued a statement on Thursday that echoed The Times'.
"I engaged in what I thought of at the time as counter-trolling. While it was intended as satire, I deeply regret that I mimicked the language of my harassers. These comments were not aimed at a general audience, because general audiences do not engage in harassment campaigns. I can understand how hurtful these posts are out of context, and would not do it again," Jeong wrote.
The Times on Wednesday issued a glowing press release announcing that Jeong would join the editorial board, touting her as "staying ahead of every turn on the vast beat that is the internet." The South Korean-born Jeong, who previously worked at The Verge, was hired as the lead technology writer for the paper.
Verge staffer Elizabeth Lopatto congratulated Jeong on the new gig but added, "Just a shame for all of us her twitter is about to be a lot less fun." Jeong's account replied with the emoji of a face wearing a medical mask over its mouth.
Jeong has sent more than 103,000 tweets since joining the social media platform in 2009. Many of the offensive comments are from 2014, and the account has recently been active with commentary on a variety of topical issues – including 3D printers and Proposition 8.
The offensive tweets have been highlighted in coverage by The Daily Caller, National Review, The Federalist and a variety of blogs and websites.
Jeong isn't the first Gray Lady hire to come under fire for offensive rhetoric on social media.
Back in February, the editorial board fired Quinn Norton hours after touting her as its next lead opinion writer to cover the "power, culture and consequences of technology" when old tweets she'd sent were unearthed. Norton had sent several controversial tweets, once claiming she was "friends with various neo-Nazis" and retweeting a word deemed derogatory to African-Americans.
Once the offensive tweets surfaced, Times editorial page editor James Bennet issued a statement that Norton had been fired. After her termination, Norton called the situation a "context collapse" on Twitter, implying her views had been misinterpreted.
"No harm no foul," Norton wrote on Twitter. "I'm sorry I can't do the work I wanted to do with them. I wish there had been a way, but ultimately, they need to feel safe with how the net will react to their opinion writers."
Fox News columnist Stephen Miller tweeted on Thursday that he doesn't care about Jeong's "dumb old tweets but it's the Times themselves who set this standard," and he attached an image of Norton.
Fox News' Greg Norman contributed to this report.