New Discovery show 'Rods n' Wheels' sets out to restore cars, bring American history to life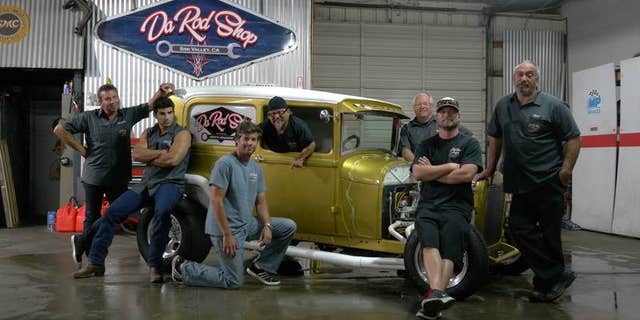 To Billy Derian, star of the new Discovery series "Rods n' Wheels," restoring an old car is more than just a money-making venture; it's a piece of American history.
Derian, who co-owns Da Rod Shop, said that the restoration biz hit a snag during the recent recession, but recently customers have once again been opting to fully restore classic cars and business is booming.
"It's off the hook," he told FOX411. "This is a business that beats the stock market. These things are rusting into the ground. They're a depleted aspect of American history. To save one of these cars is to save a story and a legacy.
"Some of these projects take a lot of work and you don't end up making money, but you save a legacy. You save something [that belongs] to the generations who drove it before you."
And while Derian serves as the salesman and business force in Southern California's Da Rod Shop, the base location for the new Discovery show, his business partner and co-star Steve Reck has the magic hands of a genius mechanic. The long-time friends don't always see eye-to-eye, but they foster the same dream of making decades-old vehicles look as if they were shining new.
In the series premiere, a car collector brings in his beloved 1932 Ford 3 Window, hoping it can be made look like something out of "American Graffiti." Meanwhile, the workers at Da Rod Shop toil away to bring a 1968 Camaro back to life– a task much easier said than done.
"What you will see is a totally diverse range of cars. We have American classics, which are beautiful and elegant through to battered old rusty hot rods to award-winning hot rods and even an old surf wagon," he said.
And recently, the shop crew tackled a more modern job.
"We restored an electric car. My son talked me into it, he loves technology," Derian said of the 1959 car they made electric. "We actually did something really cool with it."
However, Derian insists that the work performed shown on his new reality series represents much more than just flipping and restoring cars.
"There are a lot of car shows out there, but for me, it is about the dynamic of fathers and their sons," he added. "It's about learning work ethics and co-existing as a team. I hope the take away for audiences is that you can have a job you really enjoy. The show is about family and friends, with the background being cars."
"Rods n' Wheels" premieres on Discovery Monday, Jan. 27.
Follow @holliesmckay on Twitter