'Nashville' recap: Family drama shakes up love triangle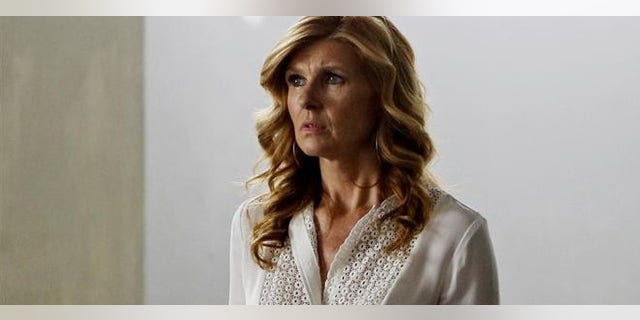 Things are not looking promising for Rayna Jaymes and Luke Wheeler. They're both nominated for CMA awards, but when media outlets suggest that their personal relationship may have lead to their professional success, Rayna isn't pleased. She tells her manager she no longer wants to be linked to Luke in the press and jumps through hoops to ensure he won't accompany her during a future performance on 'Dancing With the Stars'. These are not the acts of a happy bride-to-be, but that might just be the least of their problems.
Teddy's bromance with Jeff Fordham is heating up and Jeff begins planting the seeds for a possible record deal for Maddie and Daphne. Teddy's too distracted by Natasha, a woman Jeff introduced him to, to pick up on the ulterior motives. In fact, once Natasha strips down to her skivvies and dives into the pool, Teddy isn't picking up on much of anything, even his daughter's desperate phone calls. If Natasha seems like a fantasy come to life, its because Jeff paid her to be. Once she leaves, he lets Teddy know that he spent his night copulating with a prostitute.
Why is Daphne so desperate? Because Teddy left Maddie in charge of babysitting her little sister and has ended up throwing a rager inside their empty home. Maddie clearly does it all to impress her soon to be step-brother Colt, who she kisses after they have a heart to heart in her bedroom. Before they can acknowledge the creepiness of their family affair the cops bust into the bedroom.
The police give their parents a call and all the adults leave their tour/hooker's to tend to the children. There's plenty of tension between Luke, Deacon and even Teddy, but it quiets once Rayna enters the picture. Rayna and Teddy discuss Maddie's punishment and Rayna offers Deacon a genuine smile, thanking him for coming. Luke stands on the sidelines, getting pushed out of another aspect of his fiance's life.
It's a small moment, but it can't be denied. Will the family drama pull Rayna from Luke and push her right into Deacon's arms?
Kiley tells Gunnar she plans to leave Nashville for a new start with a new guy, but Gunnar asks if he can spend a night with his son first. He invites Micah over for a sleepover and as luck would have it, Micah doesn't think twice about spending the night with a strange man he met the day before. After talking it over with his ex Scarlett, instead of his girlfriend Zooey, he asks Kiley to rethink her plans to leave. She agrees to the stay and the two hug, just as Zooey returns from her tour.
Zooey will have plenty time to get to know Gunnar's new child, as Juliette fires her as soon as she recovers from last weeks medical emergency. Its mostly a moot point as the unforeseen health issue leads to her canceling the tour anyway, but its always great to see Juliette shut someone down. Luckily mother and baby are both going to be fine, she'll even be able to finish filming her movie. But what about Avery?
He drives all night to the hospital to see Juliette once he learns she collapsed. Once there she explains that he either has to be all in or he won't be a part of his child's life. There seems to be some hope for the couple when he shows up to her house at episode's end, but it isn't so simple. He explains that while he loves her, he doesn't trust her, but that no matter what he would be a part of this child's life. What this means for the star crossed couple remains to be seen, but it does lead to Juliette announcing her pregnancy to press and even outing Avery as the baby's father!
Juliette and Avery aren't the only fractured family in Nashville. Layla is using booze to cope with husband Will's homosexuality. He's still covered in bruises from last week's beating, but doesn't have a problem faking a smile for the cameras. Layla is having a more difficult time. Will stops her from making a scene after one of his shows, but its clear its only a matter of time before she reaches her breaking point.