Nancy Reagan's astrologer Joan Quigley dies at 87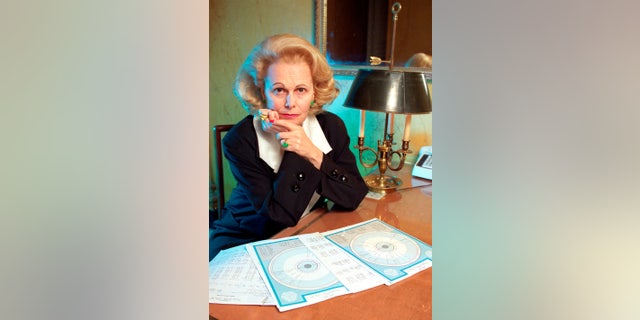 Joan Quigley, the astrologer who helped determine President Ronald Reagan's schedule and claimed to have convinced him to soften his stance toward the Soviet Union, has died at the age of 87.
Quigley died Oct. 21 at her San Francisco home after an unspecified illness, the San Francisco Chronicle, quoting Quigley's sister, Ruth, said Friday.
Nancy Reagan began consulting Quigley after the 1981 assassination attempt on her husband. She wanted to keep him from getting shot again, Nancy Reagan wrote in her 1989 memoir, "My Turn."
Entertainer Merv Griffin had told her that Quigley had predicted that the day the president was shot was going to be a dangerous one for him.
Quigley would go on to advise Nancy Reagan on dates for presidential trips and news conferences.
The president became aware of the consultations and warned his wife to be careful because it might look odd if it came out, Nancy Reagan wrote in her book.
"If it makes you feel better, go ahead and do it," she quoted the president as saying.
The consultations were revealed to great embarrassment for the White House in a 1988 book by former White House chief of staff Donald Regan, who blamed the first lady for his ouster a year earlier. Regan said almost every major move and decision the Reagans made during his time as chief of staff was cleared in advance with a woman in San Francisco who drew up horoscopes. He did not know her identity.
The woman was in fact Joan Quigley, an heiress and Republican political activist. Quigley told The Associated Press in 1988 after her identity was revealed that she was a "serious, scientific astrologer."
"I am really not one of these clowns, and I really don't like this circus atmosphere," she said.
A call Friday to Joanne Drake, a representative of The Ronald Reagan Presidential Foundation, for comment on Quigley's death was not immediately returned. The foundation was created by President Reagan and manages his library and museum in Simi Valley, California.
Both the president and Nancy Reagan denied that any policies or decisions were based on astrology.
But Quigley told a different story in her 1990 memoir, "What Does Joan Say?"
Before Reagan's 1985 summit with Soviet leader Mikhail Gorbachev in Geneva, Quigley said she advised Nancy Reagan that "Ronnie's 'evil empire' attitude has to go."
"Gorbachev's Aquarian planet is in such harmony with Ronnie's, you'll see ... They'll share a vision," she recalled telling the first lady.