Morrissey claims halal meat producers get certification 'by supporters of ISIS' in bizarre interview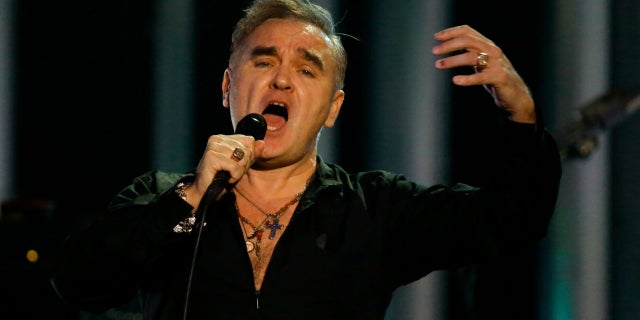 NEWYou can now listen to Fox News articles!
Former Smiths frontman Morrissey rambled about halal meat producers, claiming they can only get certification "by supporters of ISIS" while blasting British leaders Theresa May and Sadiq Khan in a bizarre interview.
The singer, known for his outspoken, controversial opinions, didn't hold back in an interview published on his website.
"Halal slaughter requires certification that can only be given by supporters of ISIS," Morrissey said.
PAULA PATTON'S RUMORED BOYFRIEND IS STILL MARRIED
The British crooner also claimed kosher practices "must be banned as well."
"If you eat animals, isn't it a display of hatred for a certain species? And what gives you the right to eat another species or race? Would you eat people from Sri Lanka?" Morrissey asked.
Morrissey is a vegan and has been outspoken about his hatred of eating meat.
The singer criticized British Prime Minister Theresa May who he said "cannot say her own name unless it's written down on a cue card in front of her." He also said London Mayor Sadiq Khan "cannot talk properly."
In the rant, Morrissey threatened to sue Spin magazine after reporter Maggie Serota wrote an article published in December stating the singer "political beliefs border on fascism."
JOHN OLIVER HOPES 'CINDERALLA MAN' JOCKSTRAP WILL DRAW CUSTOMERS TO BLOCKBUSTER
"As far as racism goes, the modern Loony Left seem to forget that Hitler was left-wing!" Morrissey said. "But of course, we are all called racist now, and the word is actually meaningless. It's just a way of changing the subject."
Morrissey also slammed modern-day journalism.
"They don't print what you say, and they print what you didn't say," Morrissey said. "Now, all journalists are megastars and the only aim of their interview is to express and establish their own personal views, and to hell with whatever the interviewee says."