'Modern Family' cast rallies around Ariel Winter as her fight with mother intensifies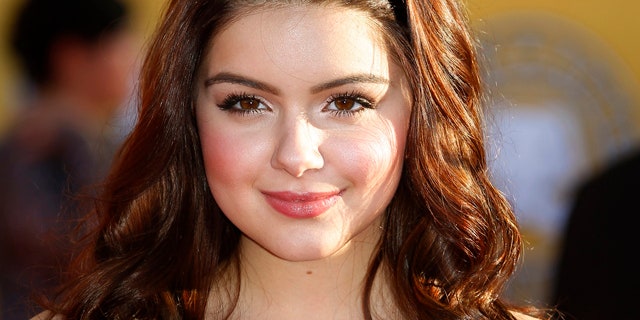 LOS ANGELES – In May, "Modern Family" star Ariel Winter took to Twitter to wish her mom a Happy Mother's Day.
"Happy mother's day to one of the most amazing moms in the world. Mine!:) Love you mommy! Happy mother's day everyone!" the 14-year-old actress tweeted.
Today, those good mother/daughter feelings are long gone, as a family drama between Winter and her mom, Chrisoula "Crystal" Workman, continues to escalate amid allegations of parental abuse, statutory rape, and worries over who controls Winter's seven figure salary.
Los Angeles Superior Court judge Michael Levanas granted temporary guardianship of Ariel Winter, born Ariel Workman, to her elder sister, Shanelle Gray, an actress who runs the acting studio Gray Studios LA. Court documents state the guardianship was put in place to "protect and prevent further physical emotional abuse" from her mother. The filing alleges that the young actress "has been the victim of on-going physical abuse (slapping, hitting, pushing) in addition to "emotional abuse" such as personal insults pertaining to her weight and "vile name-calling."
A source close to "Modern Family," in which Winter plays the role of precocious Alex Dunphy, told FOX411's Pop Tarts column that "stage mom" issues with Workman have been a problem.
[pullquote]
"There have been minor issues on the set and some criticism over her looks from the mom," said the insider. "But there is concern over the impact this will have on Ariel, and it is a very close-knit cast, so right now they are all rallying around her and making sure she is okay. Nobody had any idea it would really go this far."
A rep for the ABC show did not respond to a request for comment.
Statutory Rape Allegations
But abuse allegations are only part of this story. Three days after Winter filed to have her mother's guardianship revoked, her mom filed a police report against Winter's 18-year-old boyfriend, actor Cameron Palatas. Workman alleged that she found her daughter in bed with the "legal adult" at around 10pm on September 24.

Palatas has appeared on Disney's hit show "iCarly," and is best known for his role as Jared on "ANT Farm." His new show "Zach Stone Is Gonna Be Famous" was recently picked up by MTV. The two have been seen together and numerous Los Angeles events in recent months, with Winter thanking her fans for their support of the romance with a tweet back in August: "Thank you to everyone who is supportive of me and @cameronpalatas. It really means a lot," she wrote. "Love y'all!"
Workman's Objection to Petition for Appointment of Guardian of Minor, filed on Thursday, says Winter's relationship with Palatas is the real reason she's trying to get her mom out of the picture.

"I warned Ariel against seeing him and asked her not to see him anymore... This became evident when I caught Ariel engaging in inappropriate sexual behavior, which is when I became adamant she end her relationship with him," Workman claimed in the court filing. "Ariel is rebelling and using this Guardianship to get out from underneath my guidance and supervision to her sister's care."

A source told FOX411 that the Department of Child and Family Services (DCFS) is talking to people associated with Winter, and that given her age, it's likely Child Protective Services (CPS) will be brought in to the investigation, particularly regarding the statutory rape allegations.

According to prominent legal expert Wendy Feldman, if there is any evidence to substantiate that Workman knew about sexual relations between her daughter and the older boyfriend for a significant length of time before alerting authorities, the ramifications could be very serious.
"If the mom knew earlier, she could be criminally liable for child neglect, and if it turns out not to be true, than that's just as serious, as lying to authorities is also a criminal offense," she explained. "In a case like this, a CASA (Court Appointed Special Advocate Association) worker may have to be brought in to care for Ariel, and that in itself could cause disruptions on the set and interfere with Ariel's ability to work. I'm sure they are hoping to have this sorted out before it gets to that point."

The DCFS was not immediately available for comment, but we're told authorities will likely hand over any evidence they have gathered pertaining to the case to the District Attorney's office, who will then decide if they will move forward and press charges against anyone.

"The district attorney can certainly press charges against the boyfriend for statutory rape if they believe they have enough evidence to proceed," explained Los Angeles attorney, Anahita Sedaghatfar. "If the district attorney pursues this case, they will need to present evidence that sexual relations did in fact take place between the two. What will help prove the charges will be evidence that corroborates the allegations of sex such as text messages, emails, even other eyewitnesses who will testify to this fact."
So Who Controls Ariel's Money?
Winter's financial situation is also an issue. Court documents show Workman receives her daughter's paychecks, and also has control over her daughter's "Coogan" account. Under California Law, the Coogan Act requires that at least 15 percent of a child entertainer's earnings be deposited into a trust account which can only be accessed by the child when he or she reaches 18 years of age.

Workman strongly denied ever touching the Coogan account, and has since claimed her daughter Shanelle Gray will misuse the earnings made by Winter, who reportedly earns $75,000 per episode for her work on the ABC sitcom.
Reps for Winter and Gray's attorney, Michael Kretzmer, who filed the petition for appointment of guardianship on behalf of his client, did not return comment requests for this story. Workman did not respond to a request for comment either, but she did release a statement last week in response to the news she had lost custody and was accused of abuse.

"I caught them engaging in behavior I feel my daughter is too young mentally and physically to understand," she stated. "I filed charges him because he is an adult and if he wants to engage in adult behavior with a minor (then) he should also be ready to suffer adult consequences for his actions and poor judgment."
The case is due in court November 20.