MLB's Bruce Maxwell, who knelt during anthem, pleads guilty to disorderly conduct after gun charge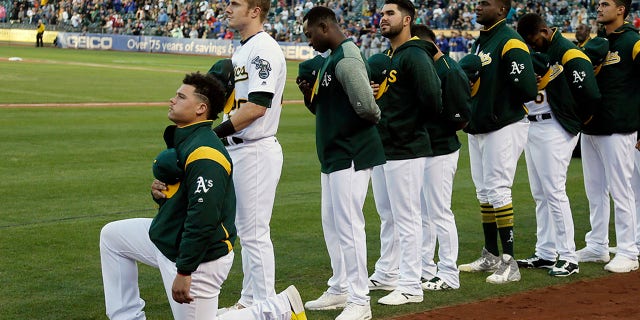 NEWYou can now listen to Fox News articles!
Oakland Athletics backup catcher Bruce Maxwell, the only Major League Baseball player to kneel during the national anthem since former NFL quarterback Colin Kaepernick attempted to start a movement, plead guilty Friday to disorderly conduct following an incident in which he allegedly pointed a gun at a delivery person.
Maxwell was arrested last October when Scottsdale, Ariz. police said officers went to his home after getting a call about a person with a gun. Maxwell was booked on charges of aggravated assault with a deadly weapon and disorderly conduct.
He allegedly pointed a gun at a female food delivery person and reached an agreement with the state by pleading guilty to a class 6 undesignated offense. The Athletics' reserve will be required to complete a probation period and community service. Sentencing is scheduled to occur on June 4.
"Accepting responsibility is the first step in working to make amends for my lapse in judgement. I am truly sorry for the pain that my actions have caused, and while they are not representative of who I am, I understand that I have to earn back the trust and respect of those around me," Maxwell said in a statement.
"There remains the possibility that the league could impose discipline for Maxwell's guilty plea to disorderly conduct. Typically MLB waits to see outcome of legal process before making a decision," San Francisco Chronicle A's beat writer Susan Slusser tweeted.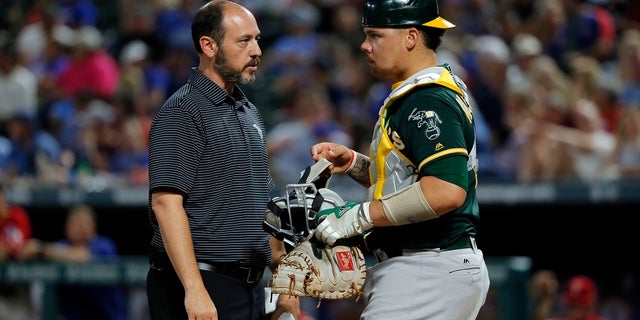 Maxwell became the first Major League Baseball player to kneel during the pregame playing of "The Star-Spangled Banner" when he dropped to a knee prior to Oakland's game against the Texas Rangers back in Sept. – shortly after President Donald Trump denounced protests by NFL players.
The Athletics released a statement on Twitter shortly after the anthem, saying they "respect and support all of our players' constitutional rights and freedom of expression."
The team is speaking about Maxwell again, but this time it's related to his guilty plea. Athletics general manager David Frost said he is please Maxwell has taken responsibility for his actions.
"We expect our players to conduct themselves in a manner that reflects the standards of the Oakland Athletics. His conduct in his incident did not live up to that," Frost said in a statement. "We have communicated with him throughout the legal process about our expectations as a representative of the organization. I believe he has already begun the work of making amends for his actions and look forward to his continued positive contributions to our community."
Last year, Maxwell claimed during a visit to his hometown of Huntsville, Ala., that he was refused service at a restaurant because of his protest. But a waiter told Fox News that Maxwell was "outright lying," about what happened.
"I didn't even know who Bruce Maxwell was," waiter Matt Henry said.
Kaepernick began kneeling during the national anthem during the 2016 to 2017 season while he was with the San Francisco 49ers as part of a protest against perceived police brutality. While several professional football players have followed in his footsteps, Maxwell is the only MLB player to protest during the anthem.
Meanwhile, Kaepernick reportedly still won't stand for the playing of the national anthem if he ever lands another job in the NFL. Reports circulated Thursday that Kaepernick's try-out for the Seattle Seahawks was postponed after he told the team he would not stop his national anthem kneeling protests. The Seahawks have since signed Stephen Morris for the backup quarterback role Kaepernick was being considered for.
Fox News' Kathleen Joyce contributed to this report.