Miss Colombia buries hatchet with Steve Harvey but admits: We hated you a bit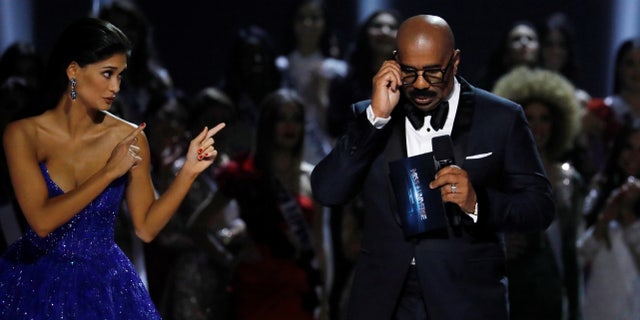 Steve Harvey's mishap at last year's Miss Universe pageant, in which he mistakenly announced Miss Colombia as the winner, is far from forgotten in the South American country -- but it is forgiven.
During the Sunday night ceremony, the new Miss Colombia Andrea Tovar had a spicy exchange with Harvey on stage.
"I want you to marry my son," he told her, gushing at her beauty. And then: "I wanna just ask this for myself, how do people in Colombia feel about Steve Harvey?"
"You want the truth?" she quipped. "No, just lie to me," he jokingly responded.
"They hated you a little, but I love you and I forgive you. To err is human," said gracefully Tovar, who ended up in the third place.
A 23-year-old dental student from France, Iris Mittenaere, won the Miss Universe crown and Miss Haiti Raquel Pelissier, a 25-year-old survivor of the devastating 2010 earthquake that destroyed her hometown, was named first runner up.
Harvey returned to host the 2017 beauty competition a year after his colossal gaffe.
"Yes, it's been a long year and if I learned anything is that if you make a mistake, you keep on going," he said in his opening monologue.
But the jokes about it returned toward the end of the evening.
Just as Harvey was about to announce the winner, Miss Universe 2015 Pia Wurtzbach handed him a thick pair of reading glasses.
"Thank you, Pia," Harvey said as the crowd laughed. "A year late, but thank you."
Along with Colombia and the Philippines, the other finalists included Kenya, Indonesia, Mexico, Peru, Panama, Canada, Brazil, France, Haiti, Thailand and Miss USA Deshauna Barber.