Miranda Kerr, Orlando Bloom Wed in Secret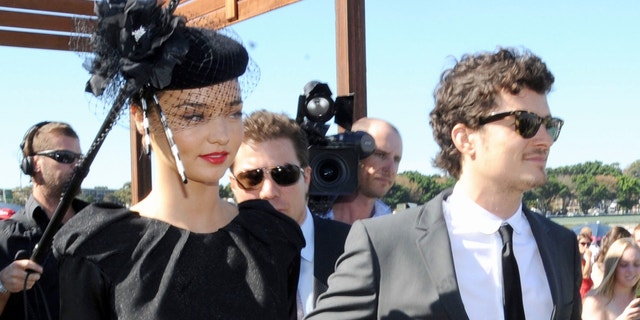 Miranda Kerr's grandmother found out about the supermodel's wedding to Hollywood hunk Orlando Bloom on television, The (Sydney) Daily Telegraph reported Friday.
Ann Kerr -- who lives in the tiny Australian town of Gunnedah, New South Wales, where her granddaughter grew up -- said she was not invited to the wedding.
The 74-year-old said Kerr's parents John and Therese were also not present for the wedding, which were believed to have taken place at a private Los Angeles ceremony on Thursday.
"No I didn't get invited to the wedding. We're all home every one of us. My daughter-in-law Therese and my son John weren't there," she said.
"Her mom knew about it beforehand and we were all for it."
The wedding was "just out of the blue, that was the way they that they wanted it to be."
Grandmother Kerr continued: "I didn't know a thing and when I saw it on TV it brought tears to my eyes and I'm sure her mom and dad would have shed a tear too."
The 27-year-old model was due to fly back to Australia for the David Jones Spring/Summer Collection Launch next month but has canceled her trip.
Kerr is the face of the Australian department store, as well as being known internationally for her Victoria's Secret work.
David Jones spokeswoman Collette Garnsey said: "Given the exciting news that Miranda and Orlando have recently wed and will be enjoying their honeymoon together, Miranda unfortunately will not be with us for the Spring Summer 2010 Fashion Launch.
"David Jones is thrilled for Miranda, Orlando and their families -- this is an exciting chapter in their lives and they will share a wonderful future together."
Kerr said she wished to take time to celebrate with British-born Bloom, 33.
"I am enormously grateful to David Jones to have been given this time to enjoy such a special moment in my life," she said.
Kerr's mother Therese has spent the last few weeks in Los Angeles with her daughter, while speculation mounts that the star is three months pregnant with her first child.
Click here to read more about this story from The Daily Telegraph.