Mickey Rooney to be buried alongside Hollywood royalty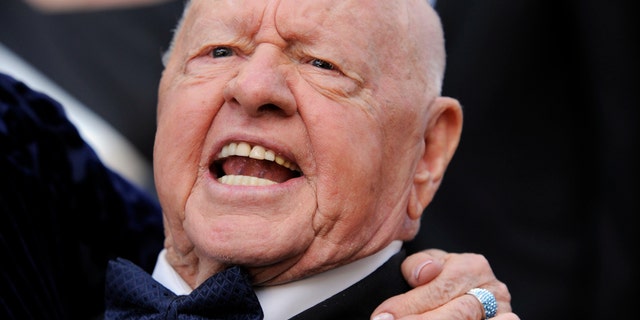 Mickey Rooney will be laid to rest alongside Hollywood royalty.
A judge signed off Friday on an agreement between Rooney's survivors to have the actor buried at Hollywood Forever Cemetery, the final resting place for such luminaries as Cecil B. DeMille, Jayne Mansfield and Douglas Fairbanks.
Rooney died Sunday at age 93.
He had purchased a burial plot in Ventura County, where he and his estranged wife, Jan, lived, but his estate's executor, attorney Michael Augustine, said Rooney really wanted to be buried in Hollywood or at a cemetery for veterans.
An agreement to put him at Hollywood Forever was reached Thursday between his stepson Mark Rooney and Jan Rooney.
The agreement bars another of Rooney's stepsons, Christopher Aber, from attending the funeral, which is to be a small family service.
Jan Rooney's lawyer, Yevgeny Belous, said the actor's widow is happy with the agreement.
"All she wanted was for the family to come together and honor Mickey's wishes," Belous said.
Rooney's will disinherited his eight surviving children and left a modest amount of money to Mark Rooney. The estate's value was estimated at $18,000 in an initial court filing earlier this week.
The actor had lost much of his fortune in recent years to what he described as elder abuse and financial mismanagement at the hands of Aber and his wife, who is also barred from the funeral.
Mickey Rooney filed a lawsuit against Aber and a settlement was reached, but details weren't disclosed. Augustine has said it is unlikely any money will be recovered.