Michaele Salahi and Neal Schon's outrageous $90,000 wedding registry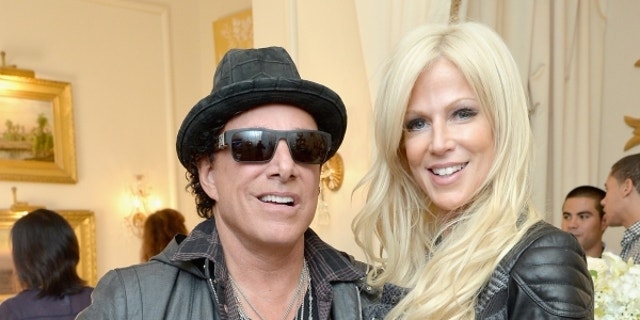 When you have a pay-per-view wedding, you obviously need an equally over-the-top registry.
Yes, we're talking about White House crasher and former Real Housewife of D.C.Michaele Salahi and rocker Neal Schon's live lavish weekend nuptials that you can pay to see. And if you're one of the VIPs who got to witness the walk down the aisle firsthand, you'll also have to fork over thousands for a wedding gift.
That's because the lovebirds have registered for a whopping $90,000 worth of luxe goodies, Celebuzz has learned.
The former Mrs. Tareq Salahi is leaving bankruptcy in the dust for greener pastures with the legendary Journey guitarist… and taking full advantage by the looks of their Neiman Marcus gift list, with the most expensive accoutrements ringing in at $5,600.
(Photo: Neiman Marcus)
Because one is never enough, the former reality star and her second hubby (who's walked down the aisle four times himself) registered for 16 J.L. Coquet platinum dinner plates at $350 each.
But you need the full dining set, of course, so that alone costs over $13K.
(Photo: Neiman Marcus)
Or the vintage Daum crystal piece for $4,700 and the Raynaud gold and platinum soup bowls for about $3,000.
And there's plenty of Hermes dinnerware, blankets and pillows to go around if you've got $10,880 at your fingertips.
And $2,200 for Christolfe dinner knives or $2,200 for Baccarat goblets for the extravagant king and queen, who charged $14.95 to watch them say "I do."
(Photo: Neiman Marcus)
But if you're pockets aren't quite that deep, you can get the newlyweds a gravy ladle for $69 or spend a mere $950 for a Christolfe water pitcher.
Mr. and Mrs. Schon, who tied the knot at San Francisco's Palace of Fine Arts in a ceremonial spectacle dubbed "Winter Wonderland Wedding and Music Event" on Sunday (complete with 40 chandeliers, sprinkling fake snow and Christmas trees), first met when the 59-year-old spotted the 48-year-old blonde in the audience at D.C.'s Constitution Hall 18 years ago. So it's only fitting that the couple exchanged vows alongside 18 bridesmaids and 14 groomsmen, two flower girls, a ring bearer, 350 guests and a dozen cameramen.
And, it seems, the lucky guests can definitely afford one of the 84 premium presents (i.e. Van Halen frontman Sammy Hagar, Grateful Dead's Bob Weir, R&B singer Brian McKnight and fellow reality villain Omarosa Manigault) who so far have lavished the happy couple with a mere 10 items to take home (that's only $3,700 accounted for… and $1,395 alone for a large crystal Baccarat vase)…So there's a lot more spending to go over the next year.
Looks like Christmas is coming early for the Schons.
Click here to see the happy couple's outrageously expensive wedding registry.