Michael Peña Strikes Again in Box Office Hit "The Lincoln Lawyer"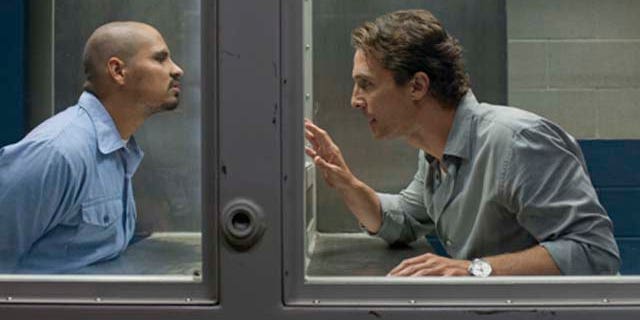 After enjoying the profitable debut of the sci-fi flick "Battle: LA," Michael Peña is back on the big screen as part of another box office hit, "The Lincoln Lawyer," an intense legal thriller with sharp twists and turns.
At the center of this roller coaster rush is Peña's character, Jesus Martínez.
With one of the most poignant roles in the film, Peña succeeds in transitioning the story into revelation and a new chapter of suspense.
But the actor, known for his provocative performance in the award- winning movie "Crash," is no rookie to complex films.
"People have to be detectives," Peña told Fox News Latino. "You think you know the answer, but you don't," he says.
During the opening weekend for "The Lincoln Lawyer," Peña managed to be a part of two top-five box office winners.
In two weeks, "Battle: LA" has racked up $60.6 million at the box office, making $14.6 million in its third week alone. Meanwhile, "Lincoln Lawyer" made a solid $13.4 million in its debut weekend.
Moreover, the film's debut even attracted celebrities such as Venezuelan reggaetón duo Chino y Nacho, who invited 200 of their fans to enjoy the premiere of the flick with the singers.
This may be due in part to the "cool realization" Peña says the audience gets at the end of the movie, one of the aspects of the script that drew him to the project.
"They wanted a Latino for the part and I think it was a good play on their part," Peña says.
He believes the fact that his character, who claims to have been wrongly incarcerated, is Latino gives the movie a new dynamic — an edge that wouldn't work as well had the character been another race.
Nevertheless, the actor has never been bothered by being typecast and playing stereotypical Latino roles.
"I had two [non-Latino] roommates in college who had to play stereotypical roles too," Peña says.
"Play the role as a human being … human beings are three-dimensional," he says. "Some of the best bad guys in movies are funny and charming."
To humanize his character, Peña dug deep emotionally, a task that at first seemed daunting.
"It was difficult in some areas," he says, about having to shed tears on camera. "I don't think a lot of guys are emotional and it was pretty hard for me."
Furthermore, Peña's character goes through a sentimental and physical evolution on screen, one which Peña threw himself completely into.
"I did shave my head," Peña recalled with a laugh. "It was not a big deal."
Now that the Chicago native has two popular movies in theaters, he looks forward to his future endeavors.
"I'm developing three more movies coming up this year," Peña says. "I want to become more successful."
You can see Michael Peña alongside Will Ferrell and Rebecca Hall in the upcoming film"Everything Must Go" and in the second season of HBO's "East Bound and Down," starring Danny Mcbride.
You can reach Alexandra Gratereaux at: Alexandra.Gratereaux@foxnewslatino.com
Or via Twitter: @GalexLatino
Follow us on twitter.com/foxnewslatino
Like us at facebook.com/foxnewslatino