Michael Jordan asked to take DNA test: Most embarrassing celeb paternity claim?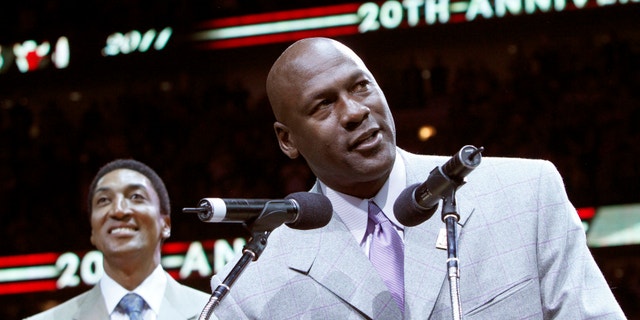 Basketball legend Michael Jordan is dealing with some pesky baby mama drama — but he says he's not the daddy.
On Tuesday, lawyers for an Atlanta woman who says Jordan is the father of her 16-year-old son asked a judge to order the hoops great to take a DNA test, Reuters reports.
SODAHEAD SLIDESHOW: See the most embarrassing celebrity paternity claims.
Pamela Smith, 48, filed a paternity suit against Jordan last month seeking child support. Jordan, who is currently engaged to Cuban-American model Yvette Prieto, filed a counterclaim seeking sanctions against Smith for making false claims, Reuters reports.
But Jordan isn't the only star to face an embarrassing paternity situation. After blonde bombshell Anna Nicole Smith died in 2007, multiple men came out of the woodwork to claim paternity of her young daughter, Dannielynn. A DNA test revealed that her ex-boyfriend Larry Birkhead was the dad.
Who would deny being "exclusive" with Liz Hurley? Businessman Steve Bing, that's who. In 2002, Bing denied paternity of Hurley's son, but a test proved that he was indeed the father.
In 2009, a paternity test confirmed that Jude Law had become a dad for the fourth time following a brief relationship with American model Samantha Burke. And Justin Bieber swears he never even met Mariah Yeater, who claimed he was the father of her 15-month-old son.
PHOTOS: See the latest celebrity pictures to hit the Internet.
Who faced the most embarrassing paternity claim?