Mia Farrow says she doesn't care about Woody Allen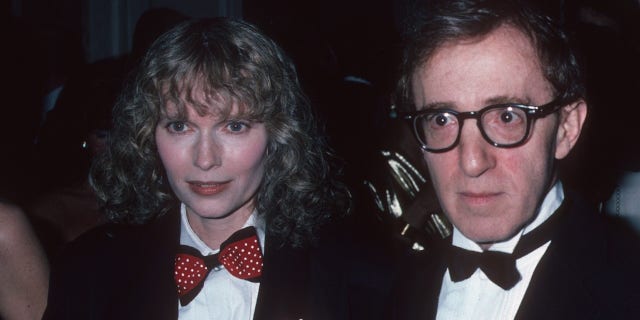 Mia Farrow said she's reached a point in her life where she doesn't let Woody Allen phase her.
Farrow told Elle's November issue that's she's learned to become indifferent when it comes to comments and situations involving the "Annie Hall" director, who she dated for more than a decade.
"I reached a place many years ago where I just don't care about him," Farrow told the magazine.
"It's not all white or black," Farrow said about the former couple's relationship. "Otherwise you'd ask yourself what on Earth you're doing with that person for 10 minutes, let alone for 10 years."
Farrow and Allen began dating in 1979 but split in 1992 after the actress discovered he was having an affair with her adopted daughter Soon-Yi Previn. Allen and Previn got married in 1997, and in September 2018, Previn detailed to New York magazine alleged physical abuse and neglect she experienced while under Farrow's care.
SOON-YI PREVIN, WOODY ALLEN'S WIFE, SAYS ADOPTIVE MOTHER MIA FARROW TOOK 'ADVANTAGE' OF #METOO MOVEMENT
"Mia wasn't maternal to me from the get-go," Previn said.
"[Mia] has taken advantage of the #MeToo movement and paraded Dylan as a victim," she added. "And a whole generation is hearing about it when they shouldn't."
Farrow's children, Ronan and Dylan Farrow, released statements shortly after condemning the article. Dylan Farrow, who accused Allen of sexually abusing her in when she was 7 years old, said the piece was done to "vilify" her mother.
Dylan Farrow first detailed the alleged sexual abuse by Allen in a 2014 open letter published in the New York Times. Ronan wrote a column in The Hollywood Reporter earlier this year stating, "I believe my sister."
Mia Farrow told Elle she didn't know her children were going to write the articles.
"Both of them wrote their pieces without telling me," Farrow said. "Because for me, it's the sleeping dog that you don't want to rouse. But I also understand and deeply respect when my daughter decided she needed to do this."
Allen has repeatedly denied the allegations.