Mexican Singer Juan Gabriel Released From Hospital, To Resume Tour May 1st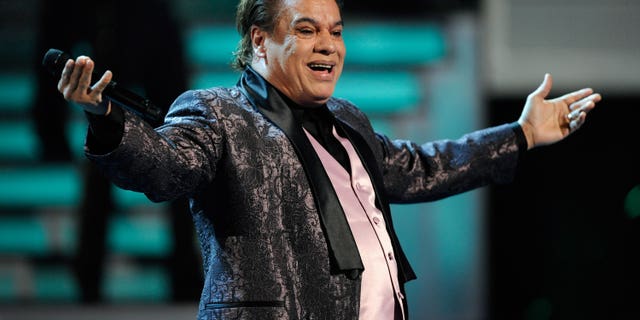 Mexican singer Juan Gabriel was discharged Friday from a Las Vegas hospital where he was admitted early Monday with symptoms of pneumonia.
He was hospitalized after feeling ill following a three-hour concert Sunday night at the Mandalay Bay resort.
In a statement released Friday night, his rep said the health condition of the music icon had improved considerably after being admitted to the intensive care unit with fluid in the lungs and low oxygen levels.
The so-called "Divo de Juarez" will continue his recovery in Las Vegas and Los Angeles, where he plans to resume his "Volver" tour on May 1 at the Nokia Theatre.
"Prayers , prayers, recipes, tips, advice, beautiful words and good wishes have poured. To all and every one of you my eternal gratitude," the 64-year-old crooner tweeted on Wednesday.
The singer, whose real name is Alberto Aguilera Valadez, was taken to Southern Hills Hospital in in a "delicate" state, according to Mexican newspaper La Opinion .
According to Gabriel's rep, the singer completed the concert in Sin City even though he had been feeling ill for a few days. The rep said Gabriel did not want to cancel his shows.
"He sang as best he could in Las Vegas; he felt very sick, but wanted to continue because ... he does not like to leave people hanging, much less his fans," his rep said in statement, according to La Opinion. "After the show, he was taken to a hospital and was immediately evaluated and was diagnosed with pneumonia."
Via Twitter, Gabriel, 64, reached out to fans following the news of his hospitalization.
"All is well! No need to worry, you just have to be careful! Thanks for all your messages and good wishes," he said in Spanish.
The singer kicked off his "Volver" tour across the United States earlier this month, with a concert in Chicago followed by a performance in New York City's Madison Square Gardens, where he began to feel ill. He sang in Houston before going to Las Vegas and was expected to head to Los Angeles on Wednesday.
Juan Gabriel is one of the best-selling Latin recording artists of all time, with more than 100 million albums sold in a career spanning decades. He was named Person of the Year in 2009 by the Latin Recording Academy, which produces the Latin Grammys.
The AP contributed to this report.
Follow us on twitter.com/foxnewslatino
Like us at facebook.com/foxnewslatino