Meghan Markle's 'Suits' castmates spill royal romance secrets a day before the wedding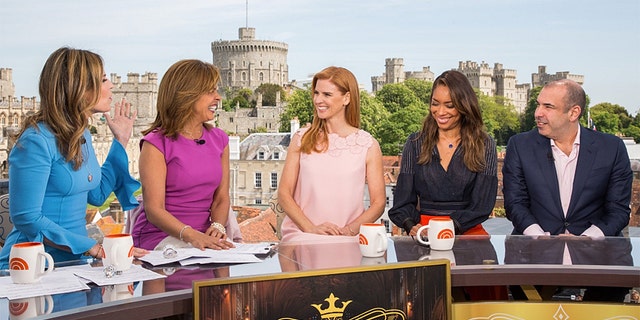 Meghan Markle's "Suits" co-stars, who are already in Windsor for Saturday's royal wedding, revealed they knew all about the actress' romance with Prince Harry way before the rest of the world.
On Friday morning, Gina Torres, Sarah Rafferty and Rick Hoffman appeared on the special royal wedding edition of the "Today" show and spilled all the details about her whirlwind romance to her prince.
When asked if the cast and crew knew Markle had been dating Harry, the cast members all nodded, smiled and replied, "Yes."
"I was like, 'You've got to be kidding me.' It was like both of us in the trailer, like, 'You're dating a prince,'" Hoffman told "Today" hosts Savannah Guthrie and Hoda Kotb, adding that he also gave Markle some advice, "I was like, 'Take it slow, be careful, don't let him hurt you.'"
"We knew she was excited, but there was a reason to keep it [the romance] close to the vest," Torres explained.
"But you knew it was Harry?" Kotb asked again.
"Yes," Torres nodded.
"They're lovely, they're a great match," Rafferty gushed.
The "Suits" trio was then asked if they were shocked to get an invite to the royal nuptials, to which Torres replied, "I was. I think you know, you hope, and I hope nothing but the best — as we all do — for her, this is an incredible step in her life, so to bear witness to that is extraordinary."
Rafferty then joked that when she opened her invitation, doves flew out before reflecting on the bond she and her castmates share.
"We worked together for so many years… we were with each other longer than we went to high school," she said. "This is a wonderful family affair."
Two days ago, it was reported that a few of Markle's "Suits" co-stars had arrived in Europe ahead of the wedding, though it was not officially confirmed.
Now, Us Weekly has confirmed that the first of the "Suits" cast member to land in England was Gabriel Macht and his wife, Jacinda Barrett, who posted images of her and her son at Buckingham Palace on Mother's Day.
The following day, the TV star shared an intimate photo of he and his wife on what appeared in be a romantic stroll in Hyde Park in London, which read, "Yesterday #London #HydePark Today #guess."
Before heading to England, Rafferty spent some time in Paris with her family and even shared a photo a few days ago with the caption, "Something tells me they're not going to forget this. #Paris #views."
Markle and Harry will tie the knot at Windsor Palace in St. Georges Cathedral on Saturday morning. It was confirmed Friday morning that Prince Charles will walk the actress down the aisle, following reports that her father, Thomas Makle, will not attend the wedding to do health conditions.