Meghan Markle's father changes his mind, now wants to attend the royal wedding: 'I'd like to be a part of history'
After reports claimed Thomas Markle wouldn't walk his daughter Meghan Markle down the aisle on her wedding to Britain's Prince Harry due to a heart attack, he's now allegedly singing a different tune.
The patriarch told TMZ Tuesday that even though he's back in the hospital after experiencing chest pains, he is hoping to be released ahead of the May 19 wedding.
Doctors reportedly told the former cinematographer his heart was "seriously damaged" after suffering from a heart attack a week ago.
Thomas told the celebrity gossip site Markle has attempted to call him since the bombshell report revealed he was not attending the royal wedding, but he was not near his phone.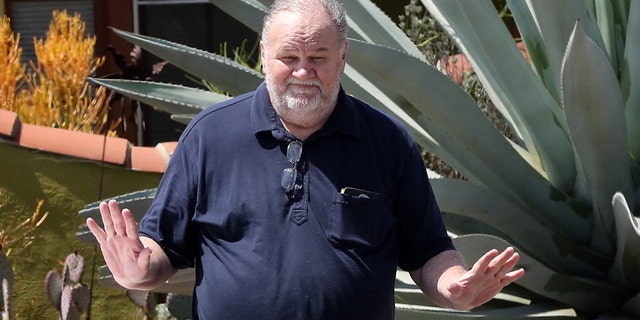 She allegedly followed up with a text message saying she loved him and was concerned about his health.
He added Markle said she harbors no ill feelings toward him for making a deal with a paparazzi agency to snap staged photos of him getting ready for the wedding.
TMZ reported Monday Thomas suffered from a heart attack six days ago, but checked himself out of the hospital to attend the royal wedding. However, the site claimed he ultimately chose not to attend to avoid embarrassing the royal family or his daughter.
Thomas insisted his staged photos was "stupid," but not a serious transgression. Instead, he wants to head over to England and support his daughter on her special day.
"I hate the idea of missing one of the greatest moments in history and walking my daughter down the aisle," he admitted.
Thomas claimed that if doctors release him from the hospital early, he would risk his health. However, Thomas said he's lobbied the doctors and asked if he can get out Wednesday, but "they have been noncommittal."
"Of course I'd walk her down the aisle," he stressed. "This is a historic moment. I'd like to be a part of history."
As for Markle's half-sister Samantha Grant speaking out to the press, Thomas claimed his two daughters don't have a "real relationship" as adults.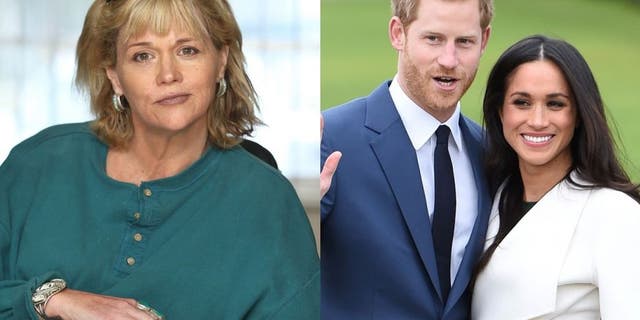 Harry's grandmother, Queen Elizabeth II, is allegedly upset with Thomas' initial decision not to attend the wedding. He responded, "I don't think the queen is thinking about what I'm doing."
Grant, Thomas' daughter from his first marriage, defended her father on "Good Morning Britain" Monday, saying he was pressured into "a dangerous situation" after being force into the public eye since Markle embarked on her relationship with Harry.
"He was living a very quiet, peaceful life, not as a recluse," said Grant. "He's a very intelligent man, he's been gregarious and worked in entertainment for 40 years. He called me panicking on the freeway because he's in a dangerous situation being followed by seven or eight cars. I think there have been examples in history of how dangerous that can be."
"So he was so stressed out they rented the house next to him in Mexico, four or five of them. He can't open his blinds, he can't go anywhere without being followed and really it's quite atrocious and intrusive and I think it's highly unethical."
Grant added, "He was really having heart pains and suffered a heart attack. It was an unbelievable amount of stress."
A friend of Harry told UK's Daily Mail Tuesday the royal was allegedly "devastated" Thomas wouldn't attend the wedding.
"Harry feels guilty that this happened to someone he loves because they are in a relationship with him," said the source. "He is devastated. He feels like this is another thing in the wake of him… the problems he causes. He feels that anyone who gets associated with his life — this is the price they have to pay. He wants to protect her and this is really difficult for him to swallow."
Kensington Palace refused to comment to Fox News Monday on the report that Thomas wasn't walking the "Suits" actress down the aisle.
Grant also did not immediately respond to Fox News' request for comment.
Kensington Palace did release a statement on Monday announcing Markle and Harry are requesting "understanding and respect" for her father. It did not confirm TMZ's report that Thomas had decided not to attend the wedding on Saturday in Windsor, England.
"This is a deeply personal moment for Ms. Markle in the days before her wedding," read the statement. "She and Prince Harry ask again for understanding and respect to be extended to Mr. Markle in this difficult situation."
Thomas told TMZ at the time he meant no harm to Markle or the royal family when he allowed a photo agency to snap photos of himself getting ready for the wedding. He also claimed the deal wasn't made for financial gain.
Instead, Thomas insisted he's been ambushed by paparazzi who have photographed him as a disheveled recluse. Thomas was allegedly upset he was photographed buying beer, implying he was an alcoholic. Instead, TMZ claimed he was buying beer for the guards at his residence.
Thomas also claimed that when a paparazzi agency approached him, he figured the opportunity would help recast his image in a more positive light. However, he admitted the photos made him appear "stupid and hammy," and has since deeply regretted participating in the photo op.
Grant took the blame for the staged paparazzi shots of her father.
Grant revealed on Twitter Monday she came up with the idea to have their father photographed in Mexico, where he lives.
"The bad press over my father doing staged photos is my fault," Grant tweeted Monday morning. "The media was unfairly making him look bad so I suggested he do positive photos for his benefit and the benefit of the royal family."
She added, "We had no idea he would be taken advantage of. It was not for money."
Markle has a complicated relationship with her father, but she announced via Kensington Palace on May 4 that he would walk her down the aisle on her big day.
According to the Daily Mail, Markle's father received $135,000 for the photos, which included him getting fit for a suit for the wedding.
But Grant, who last spoke to her famous sister in 2014, insisted her father didn't call the paparazzi for money.
"I'm entirely the culprit. I said to him to show the world 'I'm getting in shape and getting healthy' so I suggested it,'" she admitted on Britain's "Loose Women."
Back in January, Grant told Fox News she and her family are new to the spotlight and it can be difficult to cope with the worldwide interest in their personal lives.
"As much as I love and respect Meg, she's got security and a publicist and can be protected from all that," she said. "She and Harry can tell the media to stop. The rest of the family doesn't have that luxury. I love her, [but] she may not want me saying anything.
"I refuse to be a victim of the media. I'm not going to let them disparage me, embarrass me personally and professionally and not defend myself… I can only hope she would respect and understand that… In fact, if I were Meg, I would probably put something out there so that there was some sort of protective mechanism in place where the family couldn't be tortured as much."
The Associated Press contributed to this report.