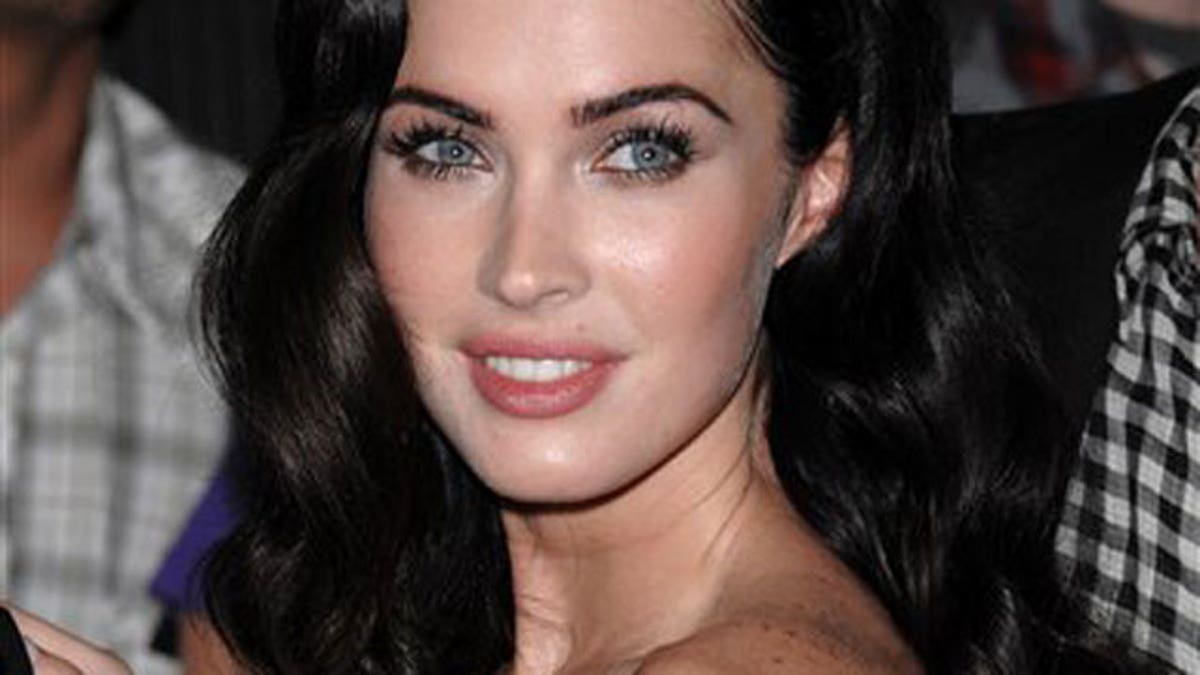 LOS ANGELES – Megan Fox Says She's Bisexual … But Had Problems Making Out With Amanda Seyfried
Megan Fox has made no secret of the fact that her sexual preferences swing both ways, having confirmed to Esquire magazine earlier this year that she has no question in her mind about "being bisexual." But surprisingly, the sexy starlet did have issues locking lips with co-star Amanda Seyfried for some steamy scenes in "Jennifer's Body." That particular day of filming was a closed set (even other stars of the film weren't allowed in) and director Karyn Kusama told Tarts she felt as though she was "babysitting" as Fox and Seyfried continuously dissolved into giggles.
"I was constant laughing because it's awkward and it's strange and nobody wants to do that. Neither one of us wanted to do it so it was uncomfortable," Fox admitted at a recent fan-meet for the film at the Hollywood & Highland Center.
SLIDESHOW: Click here to see photos of Megan Fox.
And even though Fox's folks "don't care and are good about" watching her do racy things all in the name of art, Seyfried isn't so appeased with her family watching.
"(My parents) have just seen another film of mine -- nudity and my mom got to see me have sex with two different types of people on screen. She's OK, she knows it's acting but it's not necessarily OK with me," she said. "So it was difficult when my mom sat down next to me to watch 'Jennifer's Body.'"
Lindsay Lohan Thinks She's Chanel, And is Sis Ali Following Her Footsteps?
Lindsay Lohan is only 23 years old, however most would agree that the years of heavy partying has taken its toll on the troubled Tinseltowner's once youthful looks. But is she finally ready to repair the damage and actually invest in some beauty products?
Lohan joined Victoria's Secret stunner Alessandria Ambrosio at the VS beauty store in New York last week for the launch of the next fragrance "Velvet," where the two were overheard chit-chatting about Ambrosio's one-year-old daughter (while eating buttercream cake) before Linds spent almost half an hour picking out products for herself and trying on lip glosses.
But in typical Lilo fashion, a little name-dropping was in order as she chatted away.
"It was actually a really good Halloween," she said, reminiscing on last year's haunted holiday. "My friend Christie and I went to dinner with Karl Lagerfeld, and the gang that he was with ... I didn't dress up, I just wore Chanel!"
In more Lohan news, it seems her parents can't keep quiet and now daddy Michael Lohan is accusing mama Dina of pushing their 15-year-old daughter Ali down the same destructive path as big sis Linds. Michael recently made a statement that Lindsay needed to head back to rehab over "prescription drug abuse," prompting Dina to lash out and tell People magazine that her ex-husband "needs to focus on being a parent and paying child support, of which he is six months behind, and make up for all the years he was an absentee dad. And stop going on national television and talking about his children publicly."
But that last comment didn't stop Michael for turning to Pop Tarts to bite back.
"Dina can attack me and say whatever she wants, but when she makes statements like, 'I need to focus on being a parent,' I think she needs to reach deep inside herself, get out of her state of denial and be a parent herself," Lohan told us. "I am taking legal proactive steps, Dina. What are you doing beside lying, making excuses and putting Ali in the same position you put Lindsay in? Shall I even begin to play all the tapes of our many conversations about how Lindsay needs intervention, what a good father I and am, and how you always loved me. Be a real parent, the one you were when we were married and let's save our daughter and give her life back."
Lorenzo Lamas Reacts to Ex Wife's Sex Tape & Could the Hilton's Be Planning a Reality Show?
The day after Lorenzo Lamas' new reality show "Leave it to Lamas" debuted, his former wife Shauna Sand-Lamas just had to hit the limelight herself by pledging to stop Vivid Entertainment from airing a sex tape she recently made in Miami with her new French boyfriend.
But Lorenzo seemed somewhat amused when we asked for his thoughts at last week's FOX REALLY Awards. (Mind you, his 18-year-old son actually did engage in sexual relations with Ms. Sand, severely straining the father-son relationship.)
"Shauna never ceases to amaze me," he said with a big smile, while daughter Shayne simply hung her head in shame.
Meanwhile, a surprise addition to festivities was the entire Hilton family - but could we expect a Kardashian-style family reality show sometime in the near future, perhaps produced by Paris herself?
"I'm working on a lot of projects, there are some surprises," Miss Hilton said. "Some of them have to do with animals and pets and cooking and there are a lot of really fun ideas I'm working with right now."
And when we asked mama Kathy, she gave us a sly smile and said "you just never know…" However Mrs. Hilton did, well, make a flubber of her own.
"I love reality television, I watch several of the shows," Kathy gushed. (Which ones?) "Oh, I flip the channels … I can't think of any names right now, (awkward pause). But I love reality."
Pop Tarts Scene & Herd
"The Bachelorette's" Jillian Harris hit up Chicago hot spot HUB51 with three of her girlfriends on Tuesday night. Jillian was overheard joking about how she's sick of the bad press surrounding her and fiancé Ed Swiderski. She also gushed about how she and Ed are very happily engaged.
Barbara Streisand and James Brolin dining with Los Angeles power couple Ken & Ellen Ziffren last Tuesday at The Bazaar Restaurant in the SLS Hotel. Power-lawyer Ken Ziffren treated his lovely philanthropist wife and guests to an incognito dinner in the Blanca area of The Bazaar where they indulged in signature dishes before all leaving with Jose Andres cookbooks.
Adam Lambert sneaking in the side door with a friend and asking to do no photos or press inside at Star Magazine 5th Anniversary bash at Bardot in Hollywood on Tuesday night. The Idol runner-up hid away in a private table for most of the night - until his boyfriend got there! Lambert was then spotted all over the venue holding hands with his man. He left and even showed off for the paparazzi by giving his boy toy a smooch in the passenger seat.
Jessica Szohr trying on a Forenza Infinity Scarf at The Limited pop-up shop in SoHo NYC on Wednesday.
At The Gates last night, Uma Thurman and her mom celebrating at the after party for her latest film "Motherhood" with Maestro Dobel's MOTHERHOOD Margaritas at The Gates on Wednesday night.
Brooke Shields wearing the Everlon Diamond Knot bracelets while cruising around NYC on her Vespa on Wednesday night.
Alicia Silverstone celebrating the launch of her book "The Kind Diet" with some VeeV cocktails at the Stella McCartney store in L.A on Wednesday night. The vegan actress was joined by classic early 90s celebs like Flee and band members from Red Hot Chili Peppers, Ricki Lake, Matthew Lizard, Ricki Lake, Daryl Hannah and Alanis Morissette (probably a lot of the same celebs that were at the "Clueless" Premiere back in the day!)
Juliette Lewis stopping by Love Jones for a little shopping (she bought Cosabella, Elle Macpherson and Naughty Janet lingerie) before rocking out to a crowded house at the Hard Rock Hotel & Casino on Wednesday night.
Justin Timberlake eating with friends and Alfonso Ribeiro (Carlton Banks of "Fresh Prince of Bel Air") in Nobu in Vegas on Wednesday night. They were then seen gambling all together for awhile on the casino floor of Hard Rock Casino before moving into Wasted Space where they partied for hours, and even managed to cross the strip to hang at LAX with Lakers Kobe Bryant and Lamar Odom. The night provided Justin the chance for a mini 'N Sync reunion, as former band-mate Chris Kirkpatrick was also at the club that night. Though they arrived at LAX Nightclub separately, the two sat together in the VIP section and caught up.
George Clooney and Italian actress Elisabetta Canalis arriving for the UK premiere of the film 'The Men Who Stare At Goats' during the London Film Festival on Thursday.
Audrina Patridge and Jaime Pressly hanging out at Caro Marketing and TheLookBook.com's 3rd Annual Simply Stylist event at Siren @ Orange in LA last Thursday, where top brands from around the globe featured their Spring 2010 collections.
Rockstar Alice Cooper buying his wife an early Xmas gift (a coat from Betsey Johnson) at Miracle Mile Shops in Sin City on Thursday.
Kim Kardashian at the launch of FusionBeauty's new lip gloss, inFATuation at Hollywood's Sephora on Thursday night, snuggling with a little boy while commenting on how excited she was for her sister to be giving birth soon.
Mandy Moore attending the Madison and Diavolina Launch Party in LA on Thursday night, hosted by her stylists and close friends Emily Current and Meritt Elliott. A portion of the proceeds from the evening's sales were donated to the Susan G. Komen foundation.
Macy Gray and Sy Smith topping off the evening with performances for the launch of Los Angeles fashion designer Jerell Scott night of Global Oneness at downtown LA's One Take Studio on Thursday night.
Kevin Federline enjoying dinner on Saturday night inside Strip House at Planet Hollywood Resort & Casino, Las Vegas.