Meet the Supermommels: How Motherhood Can Boost a Supermodel's Career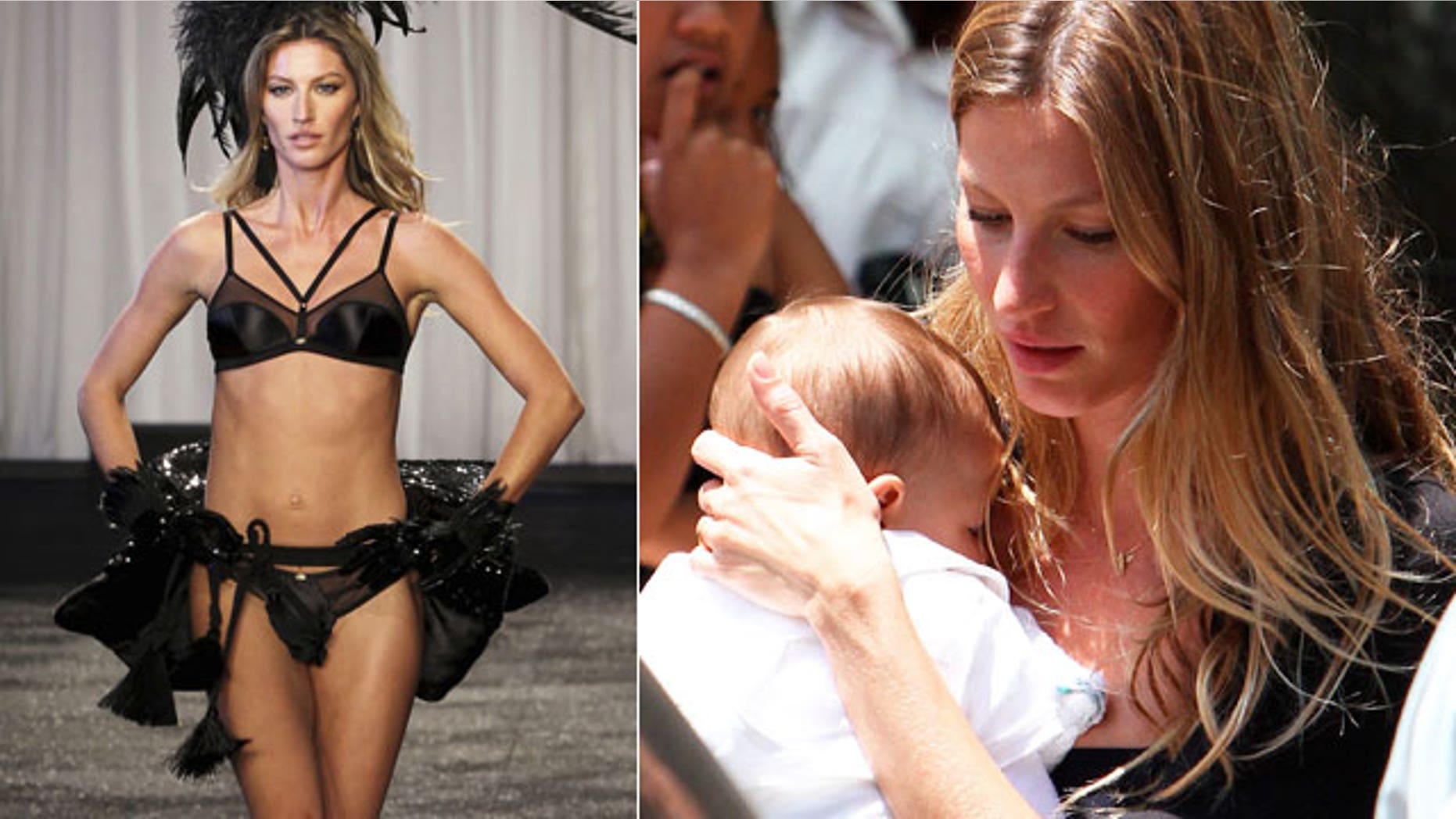 Not so long ago, having a baby marked the end of a high-end, pin-thin model's professional career. But these days, it looks like mommyhood only adds value to one's supermodel status.
Of the 10 beauties featured on Forbes's Top Earning Models, seven are moms. Gisele Bundchen, Heidi Klum, Kate Moss, Adriana Lima, Alessandra Ambrosio filled the top five spots respectively, and fellow mommies Carolyn Murphy and Natalia Vodianova weren't too far behind when it came to bringing in the millions over 2011.
And when a record 10.3 million Americans tuned in to watch the annual Victoria's Secret fashion show last week, it seemed improbably that several of the stretch-mark free Angels, one of the highest honors in the modeling industry, had young ones waiting for them in the wings.
Two of the Angels on the runway -- Miranda Kerr and Doutzen Kroes -- both gave birth this year.
FOX411: 10 Craziest Outfits at Victoria's Secret Show.
So can going from supermodel to supermom-el actually boost a mannequin's career?
"Post-baby, not only is she gorgeous, but she's a supermom who can do it all. A baby can also lend a model an air of seriousness and creditability," Jamie Beckman, an editor for women's site SheKnows.com told FOX411's Pop Tarts column. "In our celebrity driven culture, we're fascinated by the mechanics of what it is like to be these women in real life, and that includes how they raise their children."
It has even gotten to the point that models are walking the runway when they are obviously pregnant. Last year, Kerr walked for Balenciaga during Paris Fashion week while five months along, and posed for the cover of Australian Vogue at and nude for W magazine while almost ready to pop. Earlier this year, Melbourne Fashion Week in Australia went out of its way to hire a bevy of expectant model moms to roam the runway, and pregnant British beauty Jourdan Dunn walked the catwalk for Jean Paul Gaultier's Spring 2010 catwalk in Paris. Rather than concealing her burgeoning belly, the designer drew attention to her midsection by adorning her in stomach in matching circular banding to that of her silky brown cone bra.
"Motherhood makes these women, who many people know only from glossy ads or magazines, more accessible and real for the rest of the world. A baby is something everyone can relate to, and being relatable to the audience is a huge plus from marketing standpoints," former model and writer Adriane Sommer explained. "Also, you can't underestimate the sympathy a pregnant star gets from female fans. Being pregnant is nearly as good for the image as wearing a halo for a celebrity. It is something sacred and it connects us all on the most intimate and universal levels."
A number of past supermodels have been able to use their model/maternal label as a platform for other business, branding and philanthropic opportunities. Christy Turlington made her directorial debut this year with the documentary "No Woman, No Cry," using her fame to bring to life the powerful stories of at-risk pregnant women around the world. Elle MacPherson hawks a lucrative maternity collection as part of her multi-million dollar "Elle MacPherson Intimates" empire. And Heidi Klum has designed her own exclusive maternity-wear collections for Pea in the Pod and Motherhood.
Klum does offer a word of caution to models who want a baby and a catwalk career, however.
"It's all cute when you're pregnant, but once you've had the baby, it's not so," she said.
Sign Up for the FOX411 Entertainment Newsletter.
If these leggy ladies really want to make money marketing motherhood, Sommer has some more words of wisdom.
"I am still waiting to see the book "How I REALLY got my body back after pregnancy" on the shelves, instead of reading all those tales about 'drinking lots of water and yoga' that try to explain how a supermodel can strut her stuff on the runway a mere two or three months after giving birth as if nothing happened," she said. "Water and yoga?! Come on."