Mario Lopez's "Chunky" Baby and George Lopez -All the Talk Backstage at the ALMA Awards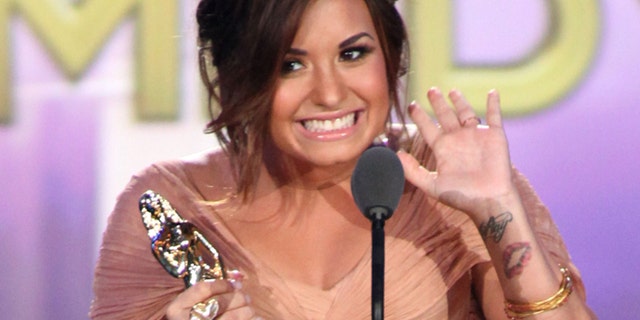 – At the Backstage Creations celebrity retreat at the 2011 NCLR ALMA Awards in Santa Monica on Saturday night, it was a family affair.
Proud father Mario López and his girlfriend, Courtney Mazza, showed off photos of their baby daughter, Gia, to "Switched at Birth" star Constance Marie.
"That baby is so cute," Marie gushed to FOX News Latino after checking out pictures of the baby on López's BlackBerry. "So chubby! Mario and Courtney are so amazing and so like this (holding up her pinkie finger) and that baby is chunky!"
Jessica Alba, who won an ALMA Award for her role in "Machette," also cooed over López's baby pics. "I've read some of her tweets, and she's an earthy-crunchy mom," says Marie. "I can relate, because I used cloth diapers for my baby and we don't use any plastic. It was wonderful to say 'hi' and connect with her. We're all Latinos and we're all family."
Marie, who played George López's wife on the "George López" show, tells FOX News Latino that the ribald comedian has nothing to worry about with the cancellation of his late night talk show, "López Tonight."
"George López don't need nobody–he could perform on a park bench and there would be crowds to come see him," says Marie. "He is nasty and funny and I love him–that's all I can say. He's an enigma, and we need him."
López, who swept through the gift lounge in a hurry, paused to eye a leather wallet holster, telling designer Michael Torres, "¡Órale cabrón!," or, loosely translated, "Hook me up, bitch!"
While relaxing in the Spanish-influenced lounge created by Donna Livingston Design, Alexa Vega, who nabbed the award for favorite movie actress for her role in "From Prada to Nada," reflected on Latinos' progress in Hollywood, "We've come such a long way, that I think to get angry or frustrated isn't productive," Vega tells FOX News Latino. "We should appreciate what we have right now."
Actor Danny Trejo agrees, "We can always do more, but when you look back and you see the kind of roles and the kind of stuff that we're doing, I have to argue with some of the people who are saying that (we're being limited). We're moving up–just look around."
Finally, Maria Canals-Barrera, who won the ALMA Award for Favorite TV Actress in a Supporting Role for her work in "Wizards of Waverly Place," has some advice for television network honchos, "There needs to be a little bit more awareness of the American Latino," she says. "It doesn't have to be a Latino story, it doesn't have to be about immigration, it doesn't have to be about a foreigner–so many of us are born and bred here in the USA and we're Americans. My parents are from Cuba, but I'm an American–first and foremost."
The Alma Awards are given to Latino entertainers by the NCLR or National Council of La Raza who "promote positive portrayals of Latinos" in the entertainment industry.
Follow us on twitter.com/foxnewslatino
Like us at facebook.com/foxnewslatino