Mariah Carey dumped by billionaire fiance over extreme spending habits, report says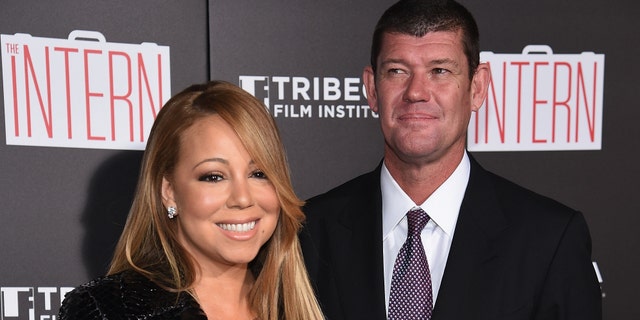 Mariah Carey's whirlwind romance with Australian casino mogul James Packer reportedly has come to a crashing halt.
According to Australian magazine Woman's Day, the billionaire ended their relationship after a falling out about her new reality docu-series on E! and her extravagant spending.
"It's all over," a source identified as being close to the couple told the magazine. "James had huge reservations about Mariah's new reality TV show and the fact that she was willing to expose their lives to the world."
The couple had been very quiet about their upcoming wedding, only saying that it would be an intimate affair. Previous reports said the planning for the ceremony would be part of her new show "Mariah's World."
Another insider told the Australian magazine that her spending sprees also played a large role in the split.
"James is very generous, but Mariah takes it to the next level," they added.
Woman's Day reported that Parker wants to end their relationship so abruptly that he was willing to let her keep the $10 million, diamond engagement ring he gave her when proposing in January.
The two have been together since June 2015.
However, it looks like the relationship's demise has been on the rocks for some time, after a spat over a birthday party earlier this year that the singer chose not to attend.
"When she refused to come to Australia for [Packer's sister's] birthday party, it created a lot of tension in the family," a friend told the magazine. "His mom hated to even hear her name mentioned, and James' tight circle of friends never really thought they would marry."
TMZ sources said the deal breaker was an alleged rendezvous she had with one of the dancers in her Las Vegas show that was also caught on camera for the reality show.
In another TMZ report, the website said Parker did "something really bad" involving the singer's assistant while on vacation in Greece. The source didn't elaborate, but said Carey bailed on their trip and returned to L.A.
Neither Carey, 46, nor Parker, 48, have commented about their split.
The news comes just days after the singer announced she had to cancel a portion of her tour dates in Brazil, Argentina and Chile citing "promoter negligence."
"To all of my lambs in South America," Carey said in a statement to E! News. "I am devastated that a portion of this tour had to be cancelled. Thank you for all of the excitement and love – I hope to see you soon, my darlings."
According to the New York Post's Page Six, Carey reportedly has been spending time with her ex-husband, Nick Cannon, since the breakup, while Packer, who was not a Carey's annual Halloween party, has turned to his first wife, Jodhi Meares, for support.
Like us on Facebook
Follow us on Twitter & Instagram