Maren Morris, Vince Gill choke up during first-ever 'Dear Hate' performance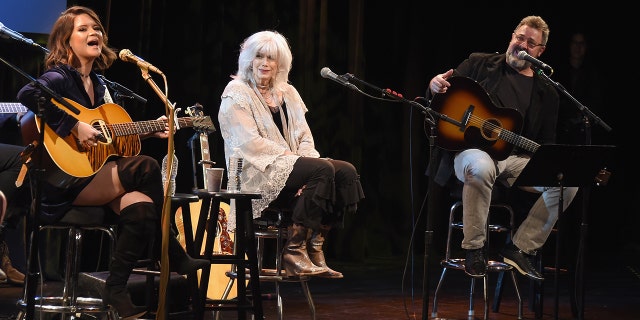 NEW YORK – Maren Morris had been holding onto her song "Dear Hate" since she wrote it in response to the 2015 Charleston church shooting.
But it wasn't until a crazed gunman took the lives of 58 people at the Route 91 Festival in Las Vegas in October, where Morris had played the night before, that she decided to release the tune.
The 27-year-old finally had a chance to sing the song with her duet partner Vince Gill ─ in person or for a live audience ─ at Tuesday night's Country Music Hall of Fame benefit show in New York City.
Before Morris put Gill "on the spot" to sing the emotional tune, she told the audience how the duet came together.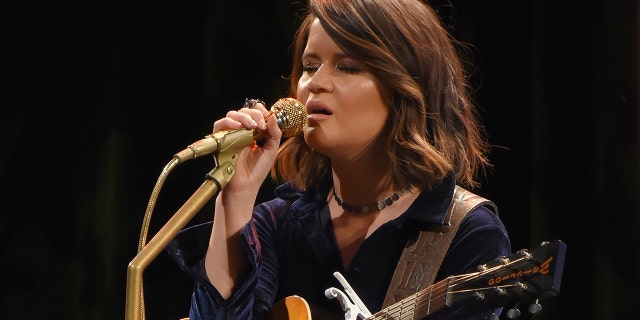 "I had this song, I had written it years ago and I didn't really know what to do with it," Morris recalled telling Gill two years ago after they first met. "[I asked him] 'I just would love to have you come play guitar on it or just anything to be a part of it.'"
The "My Church" singer was thrilled when Gill agreed to take home the demo. But shortly after, she received a surprising voicemail from Gill.
"Vince came in...and put guitars on it and took it home and left me a voicemail, and he's like, 'I hope you don't mind, I just went ahead and sang on this as well. I hope you like it,'" Morris said adding that she was shocked to have her idol add his vocals to her song.
"I was like, 'That is the biggest compliment you can ever give me,'" she said.
Gill, who had been praising Morris' songwriting ability throughout the evening, told the "My Church" singer he was "moved beyond words" by "Dear Hate."
"I have worked on probably 1,000 artists records in my life and I never did what I did when I heard that song," Gill said at the benefit. "I was so moved by that song that I wanted to sing on it and I remember the voicemail. I said, 'Hey Maren, I did something I've never done in my whole career. I took the liberty of singing the second verse because I was moved beyond words...I just was torn up by this song.'"
Morris then said, "I've never gotten to sing it with Vince, but if you would like to sing it tonight...not to put you on the spot."
Gill admitted there was a "pretty good chance" he wouldn't remember the lyrics but Morris said not to worry because she's "going to have a hard time singing" the song anyway.
The pair were overwhelmed by the lyrics but were able to deliver a beautiful rendition despite getting choked up.
Morris explained, "This is one of the most proud moments as a songwriter, to have written this song, even though it was bred out of a really horrific tragedy."
All the proceeds from "Dear Hate" to the Music City Cares fund for victims in Las Vegas.