Marc Anthony Addresses All-Star Game Viewers Complaints That He's Not American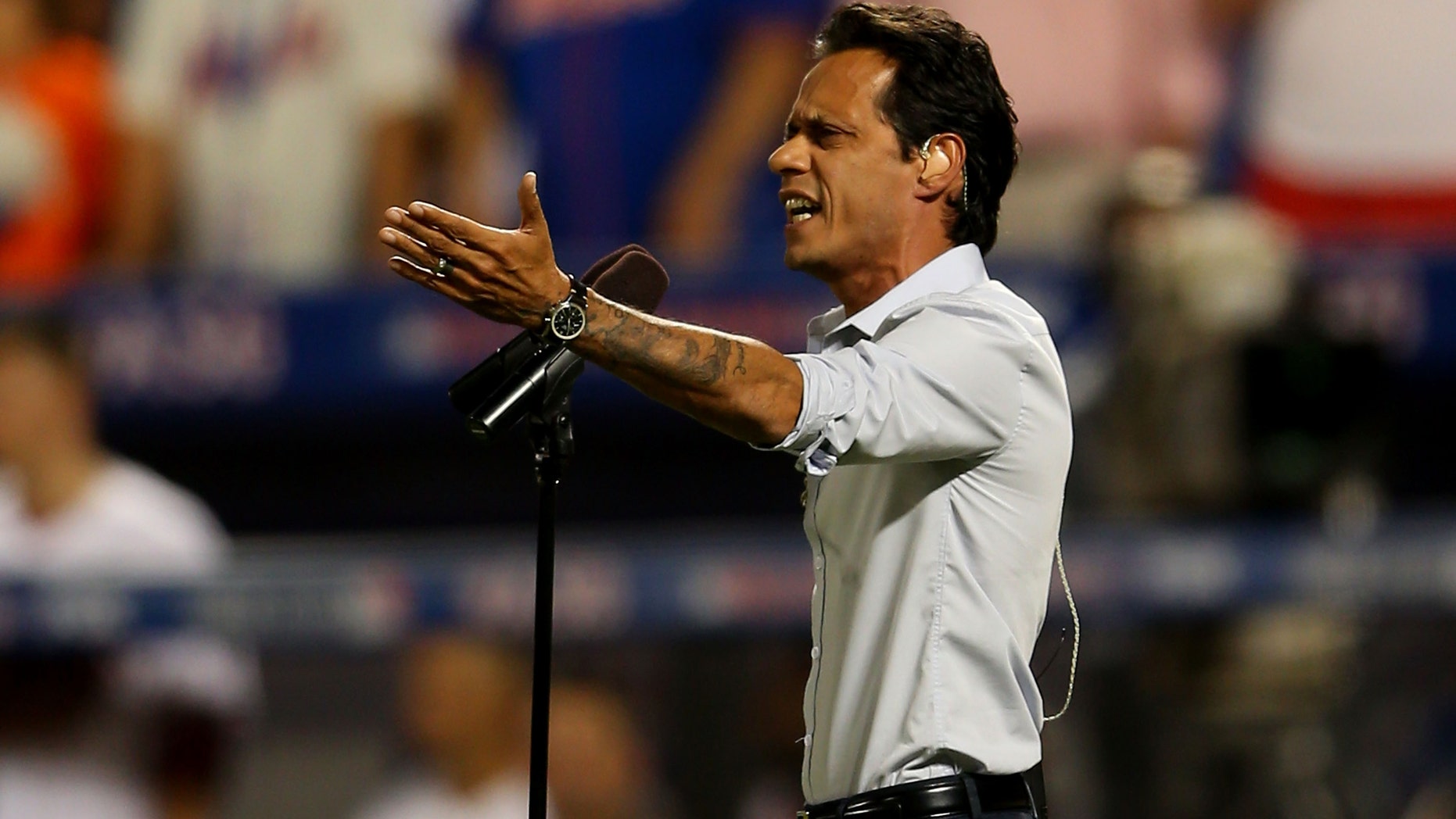 Fans of America's favorite pastime were not thrilled to see Marc Anthony sing "God Bless America" during the eighth inning of Tuesday's MLB All-Star game.
Much like when mariachi sensation Sebastien de la Cruz sang the national anthem at the NBA Finals last month, viewers of the ESPN telecast were confused as to why a "Mexican" was chosen to sing the patriotic song.
However, the people calling out Anthony obviously were unaware that not only is he not Mexican, he was actually born in New York City.
"There were some statements made that people were upset that they would have someone from another country sing the national anthem," Anthony said Thursday on the TV show "Live with Kelly and Michael."
"Let's get this straight. I was born and raised in New York. You can't get more New York than me."
While Anthony's parents are Puerto Rican, he is a 100 percent an American, something he was surprised he had to clarify following this controversy.
"I just want to set the record straight," he said. "I'm more Puerto Rican than ever. I'm more New York than ever."
A spokesperson for MLB told Fox News Latino, "Marc Anthony is a proud American, New Yorker and Mets fan. We think he performed a beautiful rendition of God Bless America at the All-Star Game."
However not everyone agreed.
Parker Lofstrom wrote on his Twitter page, "Why is a Mexican singing 'God Bless America?'"
Another viewer, Blake Bryce, had a similar question, "I'm watching America's favorite pastime. About to sing 'God Bless America.' But we don't having an American artist singing it?"
And it didn't stop there. A barrage of tweets similar in nature flooded in during Athony's performance.
Trey McNickle wrote "Letting a Spanish guy sing God Bless America really hurts my heart. Figure it out America," but he was one of the few people to actually apologize for his comments.
This was not the first instance of racial social media comments during the All-Star Game events.
At Monday's Home Run Derby, winner Yoenis Céspedes decided to speak in Spanish while he was being interviewed on national T.V. to the chagrin of some ESPN viewers.
Cody Myer tweeted "I wanna watch the home run derby, not Spanish lessons."
Gabe Lorack wrote: "I don't know how athletes from another country can't speak fluent English after all of their time around it. I mean dam***, this is America."
ESPN reporter Pedro Gomez spoke to a variety of players in between batters during the All-Star game event. But it was when he spoke with Céspedes and fellow Cuban player, Cincinnati Reds' pitcher Aroldis Chapman, in Spanish that really got viewers talking.
In a statement to Fox News Latino, ESPN said they stand by their decision to have Gomez ask the two players questions in English and then Spanish before translating the answers himself.
"Pedro's report in Spanish during the Home Run Derby was an effective way to serve all sports fans – both English and Spanish-speaking fans – and we're proud that we're able to do this."
While many fans expect athletes playing for U.S. teams to speak English, it may surprise them to hear that according to numbers provided by MLB 27 percent of the league is currently Latino.