Lynyrd Skynyrd gets candid about departed band member, plans after farewell tour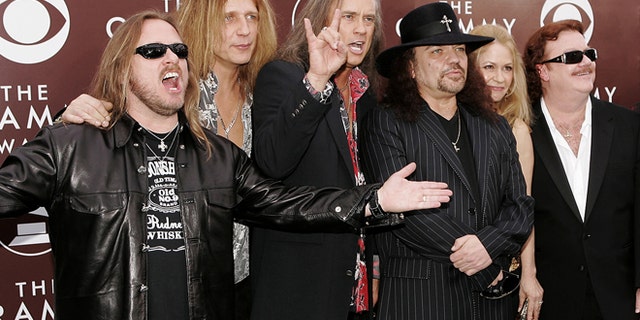 Members of the hard rock band Lynyrd Skynyrd sat down for an in-depth interview with journalist Dan Rather, in which they discussed the premature death of lead singer Ronnie Van Zant and what life will be like beyond their ongoing farewell tour.
Johnny Van Zant, Gary Rossington and Rickey Medlocke talked to Rather about their storied history as a band, their undying Southern pride and the backstory behind some of their greatest and most enduring hits.
In a preview clip of "The Big Interview," set to air on Oct. 22, the conversation turns to legendary Ronnie Van Zant, vocalist, primary lyricist and founding member of the band who died in a plane crash in 1977.
"He came out with stuff because he felt so much from his heart, and it just came through him, through God or whatever spirit is that makes people write songs. He could pull them out of the air," Rossington recalls in the clip below. "They would come to him, and they were magical. Like I keep saying, if he couldn't remember 'em, he wouldn't write it. It had to be good enough to remember, and most of 'em are."
The plane crash resulted not only in Van Zant's death but the deaths of Steve and Cassie Gaines, assistant road manager Dean Kilpatrick, pilot Walter McCreary and co-pilot William Gray Jr. A film about the crash was recently allowed to continue production after a legal battle.
Further along in the upcoming interview, the band discussed the farewell tour, which began in May. Rossington noted that, although health problems will prevent him from continuing with the band's annual rigorous touring schedule, this is by no means the end of Lynyrd Skynyrd.
"It takes a long time to finish a farewell tour when you're like us, 'cause we've played everywhere. There's thousands of venues. I keep jokin' it'd take 10 years to do the farewell tour," he said, "But then after that, after a few years of doin' [the farewell tour], we're gonna do a new record. So, we won't go away, but we won't be touring every year like we do."