Lupita Nyong'o tweets in Spanish while in Mexico promoting 'Star Wars' movie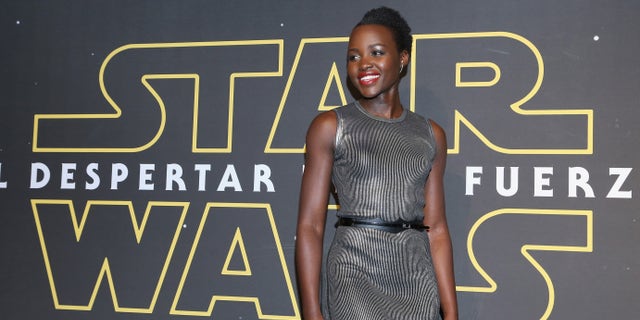 Lupita Nyong'o may have only lived in Mexico a short time before moving to Kenya, but the North American country is just a part of her as much as the African nation that saw her grow up.
The Oscar-winning actress insists that she is Mexican-American and is letting it show on social media. Nyong'o was born in Mexico but her family returned to Kenya when she was 1-year-old. Her parents sent her back to Mexico when she was 16 so she could learn Spanish.
For the last couple of days, the 32-year-old Nyong'o has been sharing photos from Mexico in Spanish – showing she is proud of her Hispanic roots. She was at her birthplace to promote the latest installment of the "Star Wars" saga.
"The force is strong with this Padawan @memoapont. ¡#Thunder danger! @starwars #TheForceAwakens," she wrote in Spanish in the caption of a photo.
"My first @starwars fan event. México, ¡Thank you everyone for coming and having fun with us! #TheForceAwakens #internationalflex" Nyong'o wrote in Spanish in a second photo at a fan event at a Mexico City mall.
"They're really, really big fans of 'Star Wars' in Mexico," the actress told reporters, adding that she was happy to be back at her "second home."
Nyong'o first talked about her love of Mexico during the red carpet of the 2014 Academy Awards where she won the best supporting actress award for her work in "12 Years a Slave."
"I am Mexican and Kenyan at the same time," she said on the red carpet. "I have seen that they are fighting over my nationality, but I insist I am Mexican-Kenyan and I am fascinated by tacos with roasted meat."
While she loves her birthplace, Nyong'o told Elle U.K. that she was definitely insecure about her looks after suffering some discrimination while living in Mexico.
'[Living in Mexico as a child] people would stop and take pictures of us just because we were black," she told the magazine. "And it was a time during that tricky adolescent phase when you're coming into yourself and you're trying to pave your own way but you're insecure about where you lie. It devastated me'
During her recent trip to Mexico, Nyong'o was joined by fellow cast member, Guatemalan-American actor Oscar Isaac and Kathleen Kennedy, a co-producer for the film.
A group of fans who had gathered for the occasion dressed up as their favorite character cheered on the actors and even showed their enthusiasm by engaging in some lightsaber fencing.
Isaac, meanwhile, showed his appreciation by shouting out "May the force be with you!" on several occasions.
"The Force Awakens," one of the most highly anticipated films of the year, is the seventh episode overall and the first installment of the so-called Star Wars sequel trilogy.
The events of the film take place 30 years after those of "Return of the Jedi," which was released in 1983 and was the last of the original Star Wars trilogy that also includes "Star Wars" and "The Empire Strikes Back."
Nyong'o character in "Star Wars: The Force Awakens" is galactic pirate Maz Kanata, a character that is computer-generated from the actress' motion-captured performance, while Isaac portrays Poe Dameron, a Resistance X-wing fighter pilot.
EFE contributed to this report.