Lindsay Lohan Tweets Her Rage at George Lopez Over White Powder Cracks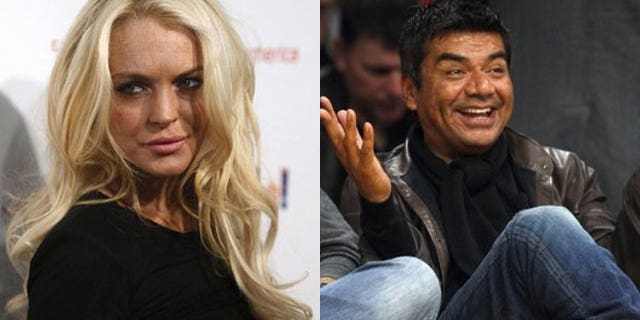 Tongues started wagging after photographs surfaced of Lindsay Lohan trotting about Los Angeles on Saturday with her pumps covered in a strange white powder. The notorious party girl seemed to have had a little mishap with an intoxicating substance, and "Lopez Tonight" host George Lopez took the bait, reportedly making a crack (pun intended) about the situation Monday.
Lopez joked that Linds uses baby powder to loosen up her snug shoes, but Lohan wasn't laughing.
Enraged, LiLo took to Twitter. "Thanks for the childish comment regarding baby powder in my shoes to loosen up the leather," Lohan Tweeted at Lopez. "Don't you have kids?"
SLIDESHOW: Lindsay's Highs and Lows in Photos
She added, "U wouldn't wanna hear that about them, or would you? Act like a grown man, have some respect and dignity for yourself."
Oh, snap! We thought it was kind of funny, Linds.
Last week, Lohan, 23, fell onto a cactus while wearing similar sky-high heels. Though she appeared wobbly and dazed, the "Mean Girls" star blamed paparazzi for the fall and later joked that she should "start wearing more flats."
Um, yeah, Linds, maybe you should.
RELATED: Lohan Admits to Cocaine Use, Three Rehab Visits