Liberal magazine The Atlantic drops writer who claimed abortions should be 'treated like homicide'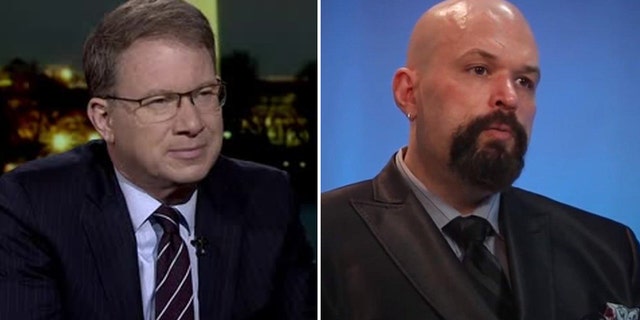 NEWYou can now listen to Fox News articles!
The editor-in-chief of The Atlantic magazine announced Thursday that the publication was "parting ways" with conservative writer Kevin Williamson two weeks to the day after he was hired, citing Williamson's earlier comments against abortion.
In a memo to Atlantic staff, Jeffrey Goldberg referenced what he called "callous and violent" language that Williamson used in a 2014 podcast in which the former National Review writer discussed abortion and the death penalty.
Another major point of criticism was a since-deleted tweet Williamson sent in September 2014 in response to a series of questions about Williamson's stance on abortion.
"Should women who have abortions get life without parole?" asked user @LeveyIsLaw, to which Williamson responded: "I have hanging more in mind."
When another user, @Green_Footballs, told Williamson his answer "reveals serious animus," Williamson responded: "Very serious animus. Abortion is an act of great cruelty."
Williamson's language during the podcast "runs contrary to The Atlantic's tradition of respectful, well-reasoned debate, and to the values of our workplace," Goldberg wrote. "Kevin is a gifted writer, and he has been nothing but professional in all of our interactions. But I have come to the conclusion that The Atlantic is not the best fit for his talents, and so we are parting ways."
Williamson's initial hiring, which was announced March 22, was immediately met with a storm of protest from left-wing media figures. Guardian columnist Jessica Valenti tweeted at the time that the Atlantic had committed "journalistic and ethical malfeasance."
On Wednesday, the liberal group Media Matters for America wrote that Williamson had doubled down on his comments in "Mad Dogs and Englishmen," a podcast produced by National Review.
"My broader point [behind the tweets]," Williamson said at the time, "is, of course, that I am ... I'm kind of squishy on capital punishment in general, but that I'm absolutely willing to see abortion treated like a regular homicide under the criminal code, sure."
Goldberg initially defended Williamson's hiring in a memo to The Atlantic staff last week, calling him "an excellent reporter who covers parts of the country, and aspects of American life, that we don't yet cover comprehensively."
"I take very seriously the idea that The Atlantic should be a big tent for ideas and argument," Goldberg said in the earlier memo, which was obtained by Slate. "It is my mission to make sure that we outdo our industry in achieving gender equality and racial diversity. It is also my job is to make sure that we are ideologically diverse. Diversity in all its forms makes us better journalists; it also opens us up to new audiences."
After Williamson's firing was announced Thursday, Valenti tweeted that she was "very relieved for the women who work at the magazine."
News of Williamson's firing was met with an equally vociferous reaction among conservatives, particularly his former National Review colleagues.
"Unreal," tweeted Jonah Goldberg, a senior editor at the magazine and frequent Fox News guest.
Added senior writer David French: "Twitter mob trumps moral courage once again."
Commentary magazine writer Noah Rothman wrote that Williamson had been "hired for his talent, fired for his views.
"This is chilling."