Last Minute Shopping Guide: Swimsuits That Make You Look Slimmer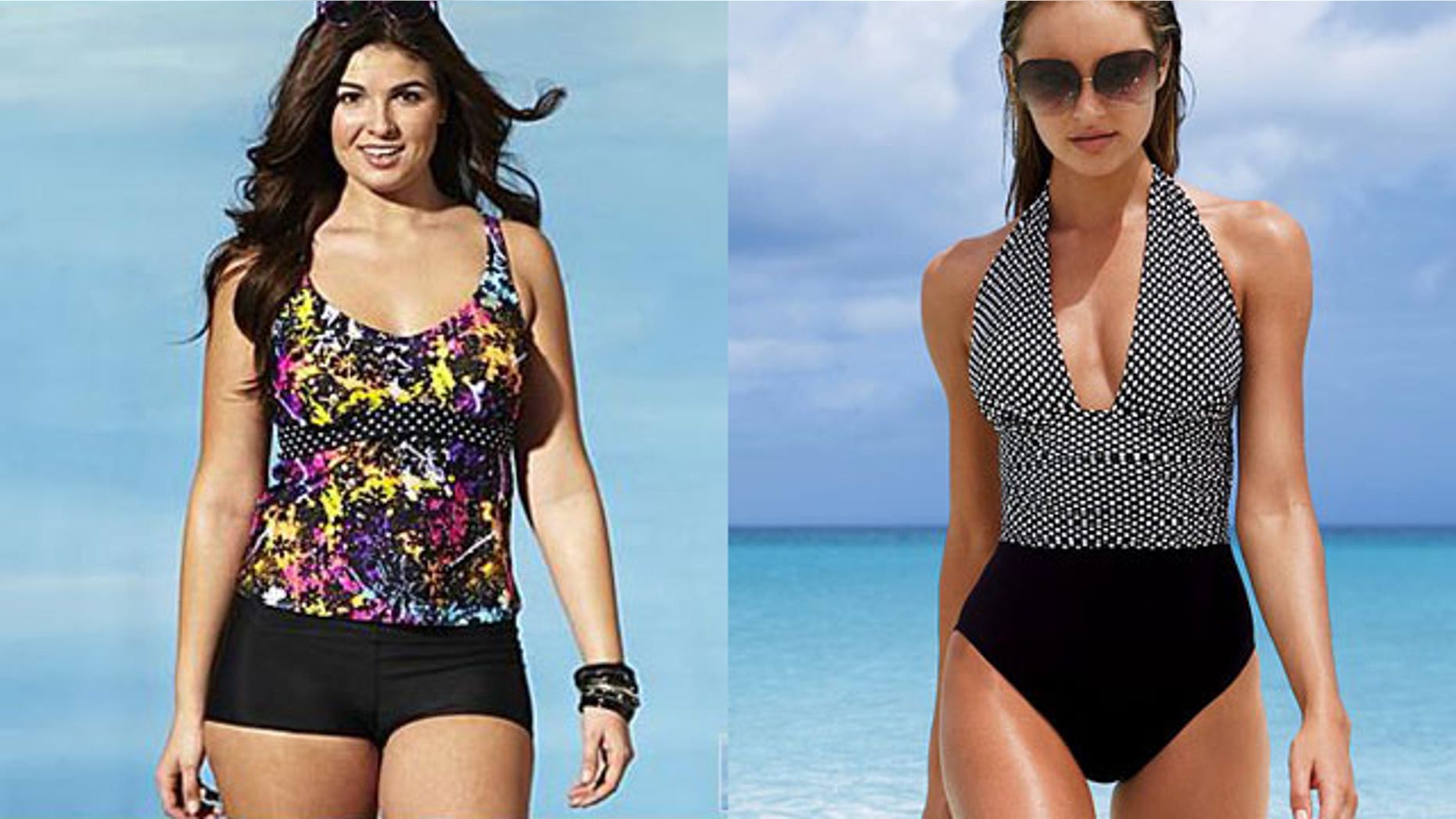 It's officially Labor Day Weekend, a time when most will jet off for one final weekend of fun in the sun. For those who let summer come and go without attaining the elusive bikini body they were striving for (aka the majority of us), there is still hope for looking amazing in your swimwear and being able to confidently strut your stuff, as opposed to self-consciously hiding behind a cover-up.
No, you don't need to live on a diet of celery and oxygen; you just need to learn how to be a smarter swimsuit shopper.
The cut and shape of a swimsuit can do wonders when it comes to flattering your figure and seemingly minor details like a thick strap instead of a flimsy one can make a huge difference in the way your beach bod looks.
Follow these tips to redeem yourself for a summer of getting wrong and get it right for one last time before you go into hiding behind fall layers.
Apple (wide torso, big bust, slim legs and thighs): 
If you're an apple or circle shape, you carry the majority of your weight right smack in the middle. To slim down your silhouette, try one-piece styles with a plunging v-neck to create a waist-narrowing effect. Anything with a v-cut is also a great way to go since it will draw the eye upward, bringing the focus to your pretty face.
Two-pieces aren't off limits, just be sure to select a top that offers a lot of support for your bust (no flimsy string bikini tops!). Since your hips are so narrow, choose bottoms with embellishments such as belts, ties, ruffles, and sashes to balance out your proportions.
High waisted styles and tankinis are great options for those who want a two-piece that offers more coverage.
Dark colors are an obvious choice to minimize a tummy but if you want to have a little more fun, try out a graphic print which can also camouflage your mid-section by forcing the eye to rove rather than hone in on one spot.
Suggestions:
Magicsuit Firm Control Plunge-front Halter $102
Victoria's Secret Halter Tankini, Top: $27.99; Bottom: $15.99
Pear (slim upper torso with generous hips and thighs): 
As a pear, your best bet for looking slim in your swimsuit is to play up your god-given tiny top half. Bolder is better when it comes to bikini tops- bright colors, graphic prints, ruffles, jewels, drapes—anything goes! To enhance your small bust, try a padded style with under-wire support. Adding a bit of heft to your bust will also help even out your proportions.
To minimize your wider hip region, opt for dark bottoms, preferably with a high-cut leg--a great trick for creating the illusion of a longer, leaner torso.
Skirted bottoms are perfect for those seeking more coverage and will help conceal unflattering bulges and imperfections. Avoid bottoms with ties or any other bells and whistles, as this will only emphasize your hips.
Suggestions:
Victoria's Secret Bandeau Top and Skirted Bottom, Top: $38; Bottom: $38
1 Sol Sheared V-neck Bra with High-Rise Brief, $187.50 
Hourglass (wide hips and bust with a small waist): 
You've been blessed with a tiny waist and your goal is to flaunt it! To really emphasize your tiny midsection look for matching styles in either solids or prints.
To keep your ample bust under control, opt for halter styles that can be tied in back and around the neck, allowing you to create the perfect fit while providing some sexy cleavage. For additional support, try a top that bands around the midriff or one with an under-wire.
If you want to minimize your bust, go for dark colors or graphic prints.  One-piece swimsuits with some structure in the bust are also figure flattering for large chests. Another great option is a one-piece with a plunging v-neck, which will play up your killer curves to perfection.
Suggestions:
Melissa Odabash Haiti Halter Bikini, $80.50
Forever 21 Abstract Halter Bikini, $19.80 
Ruler (straight torso with minimal curves): 
Just because you're lacking in the curve department doesn't mean you can't fake it, even in a tiny swimsuit!
Funky, more intricate styles (think ruffles, ties, bows and beading) can serve you well by adding a bit of curve and dimension to your figure. If you want to create the illusion of a slimmer waist, try a padded or draped top paired with belted bottoms (or bottoms that tie at the side) to add definition to the waist and hips, creating a more hourglass shape.
When it comes to one-piece suits, try a cool cutout style or monoskini to create the illusion of curves.
Suggestions:
Arizona Paint Splatter Two Piece, Top, $12.99; Bottom, $12.99
Victoria's Secret Cut Out Ruffle Monokini, $58 
Final thoughts for all shapes: Choosing the right cut is only half the battle. The most essential part of looking hot in your swimsuit is wearing it with confidence!
When you hit that beach, keep your head held high and shoulder back and strut through that sand like it's your own personal runway.