Lana Del Rey threatens to 'f--- up' Azealia Banks in Twitter fight over Kanye West
Singer Lana Del Rey threatened to fight rapper Azealia Banks after a bitter Twitter feud escalated between the two performers over Kanye West's support for President Trump.
Del Rey, 33, slammed Banks in a comment on the rapper's Instagram post of West wearing a "Make America Great Again" hat.
"This represents good and America becoming whole again," West wrote in the caption. "We will no longer outsource to other countries. We build factories here in America and create jobs.  We will provide jobs for all who are free from prisons as we abolish the 13th amendment."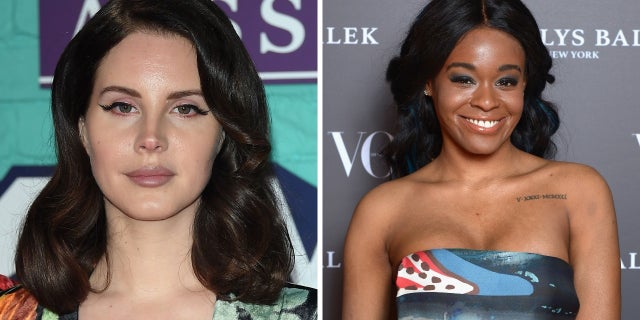 Del Rey commented on the post saying, "Trump becoming our president was a loss for the country but your support of him is a loss for the culture. I can only assume you relate to his personality on some level. Delusions of grandeur, extreme issues with narcissism – none of which would be a talking point if we weren't speaking about the man leading our country," she wrote.
LANA DEL REY CANCELS ISRAEL PERFORMANCE AMID PRESSURE FROM BDS MOVEMENT
Banks, 27, called out Del Rey for her comment on Sept. 30 in a lengthy thread on Twitter.
"Wow okay Lana, this would be cute if you were consistent with your outrage and refused to collaborate with ASAP Rocky who has physically assaulted women too," Banks wrote. "To me this just looks like the typical White woman taking using a weakened target to 'pretend' to be an ally."
"Don't use Kanye for your own vapid attempts to seem politically aware when there is SO MUCH MORE bootleg witchcraft you could be doing to TRY and take down 45," she wrote in another tweet. "Kanye is not your enemy or THE enemy."
KANYE WEST CLARIFIES REMARK CALLING TO 'ABOLISH' THE 13TH AMENDMENT: 'AMEND IS THE RIGHT LANGUAGE'
On Tuesday, Del Rey responded to the rapper's criticisms.
"You know Addy. Pull up anytime. Say it to my face. But if I were you – I wouldn't," she tweeted.
"I won't not f--- you the f--- up. Period," the "Blue Jeans" singer tweeted.
"Banks, you could have been the greatest female alive but you blew it. Don't take it out on the only person who had your back," she continued.
Banks responded by posting a picture of Del Rey criticizing the singer's appearance. Del Rey responded saying she would send Banks her surgeon's number and "a good psychiatrist I know in LA – your psych meds aren't working."
The feud began to die down after Banks threatened legal action.
"She's getting sued!" Banks tweeted in response to an article on the feud.
Del Rey, refusing to back down, wrote back, "Tell him it's a promise not a threat."
This is not the first time Banks has squabbled with other celebrities before. In May, she called rapper Cardi B a "poor man's Nicki Minaj." Cardi B replied back with a video of Banks dancing to her hit song "Bodak Yellow" at a club, Billboard reported.