Kylie Jenner shows off 5-month-old daughter Stormi with pierced ears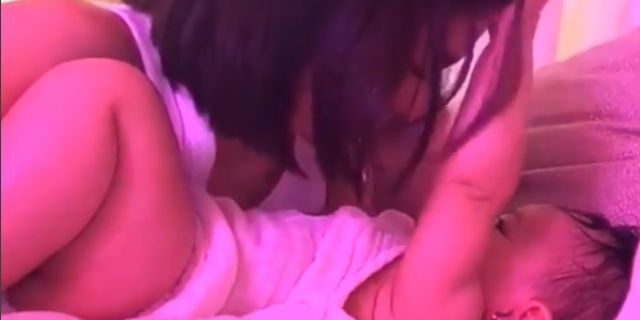 Kylie Jenner revealed her 5-month-old daughter Stormi has her ears pierced in a sweet video.
The 20-year-old makeup mogul posted a Snapchat video on Wednesday showing her cuddling with her daughter, her first child with boyfriend Travis Scott. Stormi appears to have tiny studs in her ears as she reaches up to grab Jenner's hair.
"The best kisses," Jenner captioned the video.
Fans seem to support Jenner's choice in piercing the baby's ears. Several people wrote on social media that the look was "adorable" and reminisced about having their ears pierced when they were young. Some, however, questioned the young mother's choice.
"Oh you gotta be kidding me. Who the hell pierced the ears of a baby. What comes next, toddler tattoos?" one user tweeted.
FORBES RIPPED FOR CALLING KYLIE JENNER 'SELF-MADE' BILLIONAIRE ON MAGAZINE COVER
A fan shot back at the user saying it was a common practice for parents to pierce children's ears at a young age because it prevents children from fussing with them.
Jenner has been protecting her newborn's privacy in the last few months. She confirmed in June she deleted photos showing her daughter's face, saying she's "not sharing photos of [her] girl right now."
Jenner also made headlines on Wednesday when she made the cover of Forbes magazine for its issue of America's richest self-made women. The reality star is estimated to be worth $900 million and is expected to hit the $1 billion mark by the age 21.