Kylie Jenner reveals she's given birth to a baby girl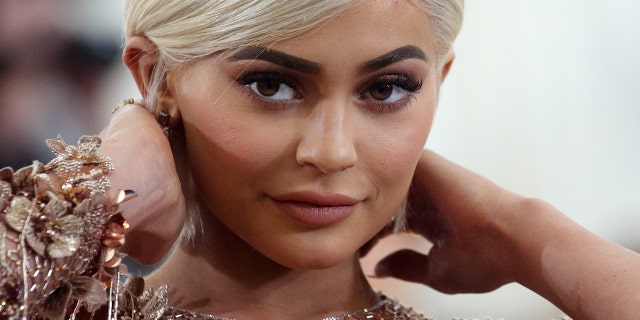 "Keeping Up With The Kardashians" and "Life of Kylie" star Kylie Jenner told the public Sunday that she gave birth to a baby girl last week.
The star made the announcement on Instagram with a heartfelt note to her fans and followers that both explained the reasons she chose to keep her pregnancy a secret and announced the birth of her first daughter with rapper Travis Scott. The duo had been dating for only about five months before rumors that they were expecting a child together surfaced in September 2017. Now, she has confirmed him to be the father after months of rare silence from the reality TV and social media personality.
"I'm sorry for keeping you in the dark through all the assumptions. I understand you're used to me bringing you along on all my journeys. My pregnancy was one I chose not to do in front of the world. I knew for myself i needed to prepare for this role of a lifetime in the most positive, stress free, and healthy way I knew how. There was no big paid reveal I had planned. I knew my baby would feel every stress and every emotion so I chose to do it this way for my little life and our happiness," the star wrote in a post. "Pregnancy has been the most beautiful, empowering, and life changing experience I've had in my entire life and I'm actually going to miss it. I appreciate my friends and especially my family for helping me make this special moment as private as we could. My beautiful and healthy baby girl arrived February 1st and i just couldn't wait to share this blessing. I've never felt love and happiness like this I could burst! Thank you for understanding."
Jenner also attached am 11-minute video diary that, for the first time, showed her pregnant and openly discussing having a baby with friends and family. It also gives some details as to the journey she took both in finding out and how it affected her future.
One of the most potent moments came with Kim Kardashian, who just had her third child, via a surrogate, with Kanye West. The prgnancy video revealed the first-look at baby Chicago West that's been made available to the public. The sisters bond over the new baby while Kim explains what Kylie can expect to happen to her body soon.
Prior to the big reveal, fans noticed that Jenner had only been posting older photos of herself on social media or images that were cropped to omit what people now know to be her visibly pregnant figure.
In the video, Jenner has her friends discuss both the progression of her relationship with Scott as well as how they found out that she was pregnant. Fans of the Kardashian family were also treated to some rare footage from the moment Kris Jenner gave birth to Kylie. The footage, which opens the below video, appears to have been shot by her father, Caitlyn Jenner, who at the time identified as Bruce Jenner.
The video ends in a similar way with the entire family in the hospital while she gives birth to her new child, whose name has yet to be revealed.
The announcement comes a little more than a month after Kylie's sister, Khloe Kardashian, revealed her pregnancy on Instagram as well.