Kim Kardashian lookalike Melissa Molinaro says Kim's Old Navy lawsuit is 'silly'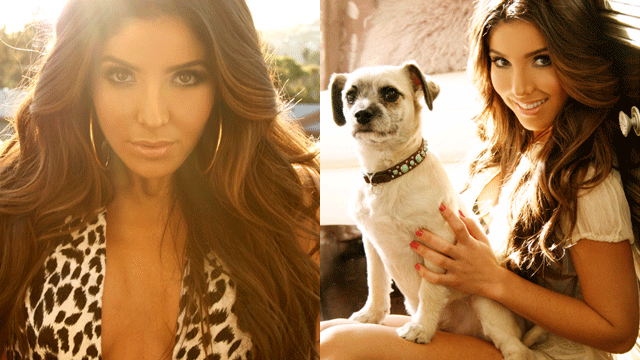 Melissa Molinaro, perhaps best-known for Old Navy's "Super C-U-T-E" commercial, where she sings about "real life" and charms her way of a parking ticket as paparazzi snap away, may have to face her doppelgänger, Kim Kardashian, in court.
"To be honest, I really don't even know what's going on with it," Molinaro told FOX411.com about the lawsuit Kardashian filed against Old Navy's parent company, The Gap, last July. "No one's really called me and told me."
Kardashian says The Gap used her likeness (Molinaro) without her consent and tarnished her reputation to the tune of $20 million. The Gap is trying to prove that Kardashian's reputation is already so bad, nothing could make it worse.
"I just think the whole thing is a little silly," said Molinaro. "I mean, they held auditions in Miami, New York and L.A. to find this girl, and they wanted to find a Fergie from the Black Eyed Peas type of girl – I mean, (Kardashian's) name never came up – it was not on their radar whatsoever."
Making the situation even stranger, Molinaro reportedly started dating Kardashian's ex, Reggie Bush, not long after the commercial debuted.
"What's crazy about that is I've known Reggie for going on three years now," explains Molinaro. "People thought that it was just because of the commercial, but I mean, I've known him for years. It wasn't anything new – not for us."
Molinaro is not wasting time worrying. She just debuted her digital EP, "Shake the World," which is a follow-up to her YouTube hit, "Dance Floor."
"It's a really fun, dance-pop song," Molinaro says of "Shake the World," which is now available on iTunes. "It's one of those feel-good singles for the spring. I'm excited for that and to see how people will react to it."
The Toronto native also just wrapped "Jersey Shore Shark Attack," a spoof of the MTV reality show, for the SyFy Network.
"I play this girl named Nooki" said Molinaro. "You'll die when you see it! I was orange for two months, and I had these really long, nasty acrylic nails. Of course, I had the official 'Jersey Shore' pouf–you gotta have the pouf. My eye make-up pretty ridiculous and I was wearing leopard–you gotta wear leopard if you're going down the guidette route. I'm Italian, so all I really had to do was dress like one of my cousins and I was good to go."
Spending time with her Italian grandmother helped Molinaro prepare for the role. "I definitely have some guidette-isms," she said. "You walk into my Nona's garage, there will be sausages drying and dangling from the ceiling. We make all our own sausage and meats. I don't know how to make sausage myself, but let's just say that I'm a part of the situation."
As it turns out, homemade sausage and fried spaghetti are a staple of Molinaro's diet. "I'm really a fat girl trapped inside a skinny girl's body," she said. "If you talk to any of my friends, they'll say, 'Yeah, that Melissa eats.' In fact, Reggie always makes fun of me because I eat more than he does. He laughs at me because most girls eat salad, but I'm right there, eating with the dudes. For breakfast, I'll have scrambled eggs with cheese, bacon, pancakes–I don't skimp on anything. It's really funny, when we're ordering, he says, 'I'll have what she's having.'"
While Molinaro may not have the name recognition of some of her peers, she's convinced that slow and steady wins the race.
"Nothing happens overnight, especially if you do it my way – which is with morals," she explained. "There are people – and we all know them – that sell out and they're just famous for being famous. I'm not where I want to be – yet – but it takes a long time, if you do it the right way. There are a lot of girls out there who have done things in their careers to be famous and to make it, and I'm not in it for the 15 minutes–I'm in it for the long haul."
Molinaro credits her parents, who did not allow her to go on dates or on spring break growing up, for her strong moral values. "I think just growing up in a good family and having that kind of moral support makes a difference," she said. "I have my morals and my values in check and my family. They wouldn't have it any other way."