Keith Richards' advice to young rocker roomies: 'Get a maid'
NEWYou can now listen to Fox News articles!
Keith Richards has advice for aspiring rock bands trying to save money by living in the same apartment: "Get a maid."
The Rolling Stones' guitarist was in New York City with Mick Jagger, Ron Wood, and Charlie Watts for the opening of their memorabilia installation "Exhibitionism," which features a reproduction of the filthy apartment he and Jagger shared with the band's other founding member, Brian Jones, and a couple of college buddies, all the way down to a sink full of dirty dishes and beer bottles.
Stones announce surprise new album 'Blue & Lonesome'
"Exhibitionism" tells the story of the Rolling Stones from Day 1, allowing visitors to experience everything from their early days living together in that tiny space to headlining the biggest stages in the world. Also included are some of the Stones' favorite guitars, stage clothes, works of art, handwritten lyric books, recordings, unseen film and photos, an interactive recording studio, and a 3-D concert video of them singing their signature single "Satisfaction."
Jagger told us he has enjoyed the memories jogged by seeing objects from his band's past.
"I was here yesterday. I looked at the room with all the different album covers in it, and there's a lot of artwork," he said. "And I remember working on this one, oh yeah I remember where I was. I remember the artist and how we worked with him, and I remember 'oh he was great' or 'that guy was so difficult.' "
Jagger said working with artists on everything from album covers to stadium design to fashion has taught him a lot.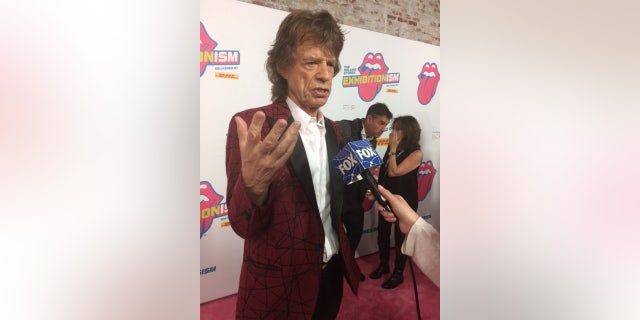 Rolling Stones tell Donald Trump to stop playing their songs at rallies
"That's a lot of collaboration with other people in a field that's not your field. Visual arts is not my field," he said. "But what I've learned about it is from these people, you know, and they've helped bring me up in this field, from fine artists to people who are thought of as just illustrators who are just as talented in their own ways."
He also sees parallels between the band's emphasis on visual imagery and today's social media landscape.
"Now if you're a new artist it matters about how you represent yourself, how your social networks are, how you look on stage all these things," he said. "So it's always been important, visual imagery has always been super important. It's changed a bit, but it's still as important, if not more so."
Richards said seeing fans' reactions to "Exhibitionism" has also been surprising. "I realized how much the Stones mean to so many people," he said. "It is kind of humbling in a way, and it is it kind of like – what do you want to come and see the old cast offs for?"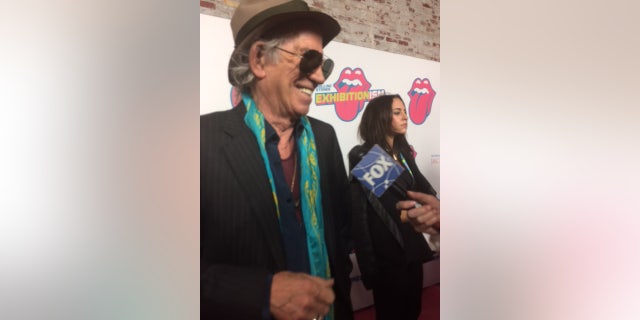 Wood said it's been fun to learn some of the band's history that predates him. (Wood joined the group in 1975). "It's a bit jarring for me because a lot of it was before my time and suddenly I'm hit with my time," he added. "And we know that the whole adventure isn't over yet so it's all it's all a series of shocks and memories and good things. I think."
Exhibitionism runs through March 12 in New York City.