Katherine Jackson Named Guardian of King of Pop's Three Children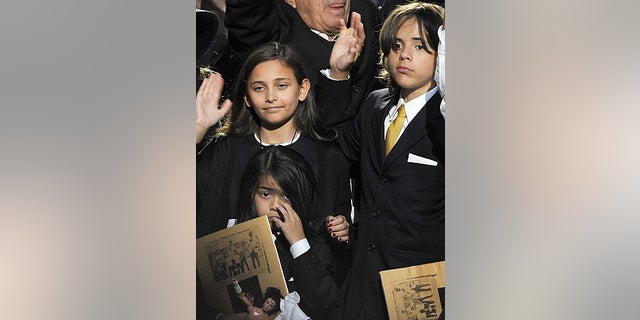 LOS ANGELES – Michael Jackson's mother gained permanent custody of her late son's children during a hearing Monday that saw a last-minute objection by the pop icon's former dermatologist.
Los Angeles Superior Court Judge Mitchell Beckloff made a series of key rulings during the morning portion of the hearing. In addition to approving Katherine Jackson's guardianship petition, he also granted monthly stipends to the 79-year-old and the three young grandchildren she is now charged with raising.
The ruling came after a few tense moments in which an attorney for Beverly Hills Dr. Arnold Klein, Michael Jackson's longtime dermatologist, raised nonspecific objections to the custody arrangements. The attorney, Mark Vincent Kaplan, said they were based on the doctor's long-term relationship with the singer and his children.
"Legally, he is not a presumed parent," Kaplan said. He said Klein had concerns about the children's education and other day-to-day parenting issues.
Beckloff ultimately determined Klein didn't have legal standing to object to the care of Jackson's children, but said he could raise objections later. Klein has repeatedly denied tabloid reports that he is the biological father of Jackson's children, saying last month on "Larry King Live" that "to the best of my knowledge" he is not.
Diane Goodman, an attorney for Katherine Jackson, told Beckloff that Jackson's youngest son, Prince Michael II, was born through a surrogate who has no parental rights.
FULL COVERAGE: Click here to read all of FOXNews.com's coverage of Michael Jackson.
Katherine Jackson's approval as permanent guardian is in accordance with her son's wishes, who named her in a 2002 will as the person he wanted to raise his children.
Last week, Katherine Jackson and her son's ex-wife, Deborah Rowe, reached an agreement over custody issues. Rowe never formally petitioned for custody, but will receive some visits with Jackson's two oldest children, to whom she gave birth while the couple was married in the late 1990s.
Rowe did not appear in court Monday.
Katherine Jackson arrived Monday, flanked by her daughters LaToya and Rebbie and son Randy Jackson. Several attorneys representing her were also in court.
Beckloff noted that the singer's two oldest children, 12-year-old Prince Michael and 10-year-old Paris Michael, filed declarations stating their wishes for who would raise them. He did not indicate what they said.
The agenda for Monday's hearing contained a long laundry-list of issues for Beckloff to rule on. After a morning recess, the judge was expected to consider whether Katherine Jackson can mount a challenge to two men who have are administering her son's estate, attorney John Branca and music executive John McClain.
The men were named as co-executors of Jackson's 2002 will, and have already received millions of dollars in the singer's money, property and a life insurance payout, court filings show. According to Jackson's will, 40 percent of the estate goes to Katherine Jackson, 40 percent goes to the children, and 20 percent goes to various charities.
It is unclear how much money Katherine Jackson and her grandchildren will receive in allowance from the singer's estate in the meantime. Beckloff did not state the figures in court and indicated he was likely to seal those details if attorneys asked him to do so.
The proposed figures have been redacted from court filings so far.
Beckloff did trim the amount the three children will receive, saying that there appeared to be some duplication between the expenses Katherine Jackson listed and those listed for the children.
The hearing was attended by more than 20 attorneys representing a variety of interests, including Sony/ATV, a music catalogue in which Jackson had a substantial stake, concert promoter AEG Live, and Columbia Pictures. Several of the attorneys are also handling issues in Britney Spears' conservatorship case, and an afternoon hearing scheduled in that matter was postponed.
The attorneys were outnumbered only by media outlets jockeying for seats in the hearing. A variety of broadcast, Internet and print media outlets covered the hearing, arriving more than an hour before Beckloff took the bench to get a seat. An overflow room was also required.