Kate Winslet and Allison Janney kiss on stage at Hollywood Film Awards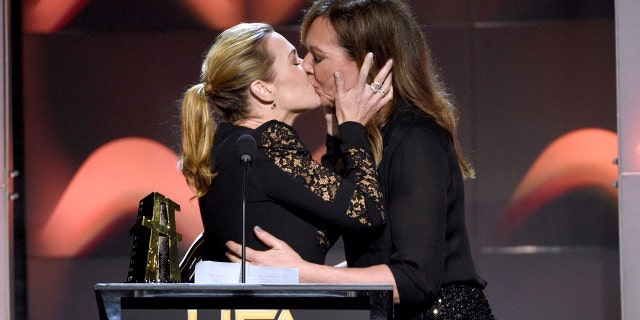 Kate Winslet got to know Allison Janney a little bit better at the Hollywood Film Awards on Sunday night.
While Winslet was accepting her Hollywood Actress Award for her role in Woody Allen's "Wonder Wheel," she decided to declare her affection for "Mom" star Janney.
Winslet said, "Allison Janney is in this room. Allison, I know I don't really know you, I just want to be you."
The Academy Award winner continued, "I want to stroke you, or something. I mean, we could always kiss, maybe? Maybe?"
Within in moments, Janney jumped to her feet was on the stage for an impromptu smooch with Winslet.
Both actresses were giddy as the audience cheered.
The leading ladies embraced after the kiss.
Winslet then quipped, "Thank you very much," as Janney exited the stage.