Kate Beckinsale: I avoided Harvey Weinstein come ons when I was 17 by saying I 'had school in the morning'
This may never end.
Harvey Weinstein has another Hollywood actress claiming he sexually harassed her. Kate Beckinsale said her career suffered for rejecting Weinstein's advances when she was still a minor.
The 44-year-old star posted a lengthy note to Instagram detailing a story that she alleges took place when she was 17 years old.
That's right: 17.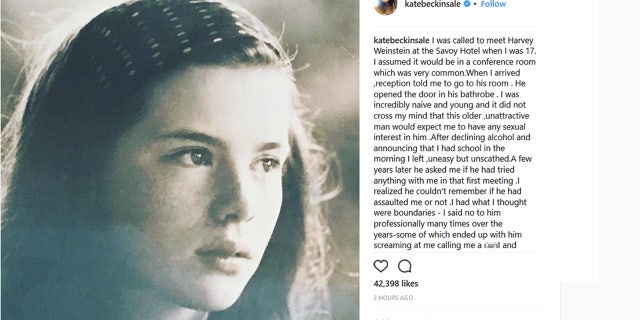 She says she was invited to the Savoy Hotel for a meeting with Weinstein but was told to go to his room upon arrival.
"He opened the door in his bathrobe. I was incredibly naive and young and it did not cross my mind that this older, unattractive man would expect me to have any sexual interest in him," she wrote. "After declining alcohol and announcing that I had school in the morning I left, uneasy but unscathed."
The star's account is in line with several others detailed recent exposes from The New York Times and The New Yorker in which several women have come forward with similar stories about the 65-year-old Hollywood mogul.
The plot thickens as she describes an occasion years later in which Weinstein asked her if he had tried anything when they first met.
"I realized he couldn't remember if he had assaulted me or not," she wrote.
Beckinsale says that she rejected him professionally for many years, which often resulted in verbal tirades from Weinstein. She claims he would scream at her, call her a "c--t" and make threats. He allegedly would "laughingly" tell people that she lived to say "no" to him.
"It speaks to the status quo in this business that I was aware that standing up for myself and saying no to things, while it did allow me to feel uncompromised in myself, undoubtedly harmed my career and was never something I felt supported by anyone other than my family."
The actress went on to share a story in which, sparked by her account of Weinstein's actions, a male friend warned a female actress about meeting with Weinstein. However, the male friend later received a call from Weinstein saying he'd never be in "another Miramax film" after the actress allegedly began sleeping with Weinstein and had told him about the warning.
"Let's stop allowing our young women to be sexual cannon fodder, and let's remember that Harvey is an emblem of a system that is sick, and that we have work to do," she concluded.