Kat Von D & Jesse James Back Together; As LA Ink Goes Off the Air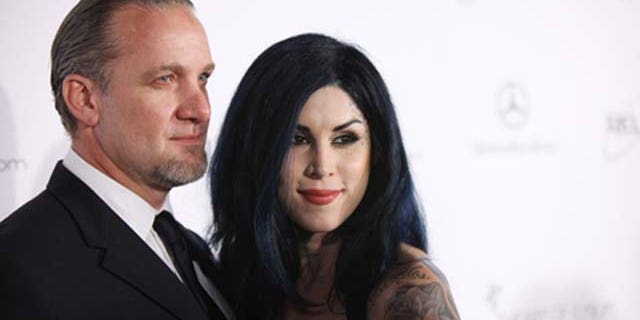 Kat Von D is back on with Jesse James.
The tattoo vixen, who called off her engagement with the motorcycle aficionado last month, is once again sporting her ring and engaged to James.
In an interview with PEOPLE magazine, James said he can't let go of Von D.
"Sometimes you are only given one chance in life," he said. "It was up to me to open my eyes and see it. That girl is my chance. I will never stop fighting and striving to hold on to her. Showing her how special she is, and how much I love her."
Although Von D and James are a couple again, She did part ways from her show on TLC, "LA Ink."
TLC claims the show was cancelled, angering Von D.
"I love how me deciding to not continue doing LA Ink, turns into being "cancelled." Thanks TLC.," Von D posted on her Twitter account.
Von D added that she is proud of her work. "As grateful as I am to have been a part of a show like LA Ink, I'm ready to end this chapter and want to focus on other projects now," she told PEOPLE.
"Regardless of everything I remain grateful," she added.
You can reach Alexandra Gratereaux at: Alexandra.Gratereaux@foxnewslatino.com Or via twitter: @GalexLatino
Follow us on twitter.com/foxnewslatino
Like us at facebook.com/foxnewslatino